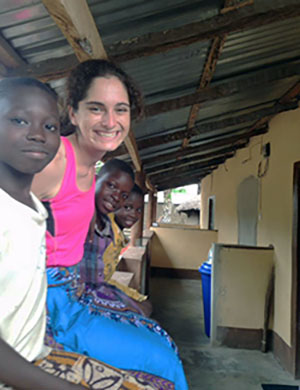 Living in the Togolese Republic (Togo), an African country smaller than West Virginia, are more than 40 distinct ethnic groups, each speaking its own language. Despite the challenges this could bring, Togo, bordered by Ghana, Benin and Burkina Faso, maintains one of the highest standards of living on the continent. Its per capita comes by the way of coffee, peanut and cocoa bean exports and from land rich in phosphate deposits.
Even with decent economic well-being, the quality of life in Togo is far from the previous experiences of Leah Genn, a 2016 graduate of Florida State University and a Togo Community Health and Malaria Prevention Peace Corps volunteer.
"When I leave (this fall), they may not remember me for my malaria prevention information sessions or my malnutrition campaigns, but they will remember that I was here and was somebody who cared deeply about them and their well-being," said Genn, who has made profound personal connections through her Peace Corps experience.
"Whether it be the village nurse, primary school teacher, students in my reproductive health class or the twin girls, next door, I know my presence has had an impact on their lives" … and also on her own.
Genn, of Gamma Eta Chapter, is one of several Phi Sigma Pi National Honor Fraternity Members who has applied the Fraternity's Tripod to their service work in the Peace Corps.
Also representing Scholarship, Leadership and Fellowship are Gamma Iota Chapter Member Phillip Wright of College of Charleston in South Carolina, who is winding down two years in South Africa, and Aaron Edwards and Emily Blankenberger, from the Delta Eta Chapter at Illinois State University, who are working with families in Ukraine.
Each of the Members credits Phi Sigma Pi with helping them garner skills needed to pursue these service-based adventures.
"My experience in Togo has taught me just how diverse and beautifully complex the world is," said Genn. "It is humbling to realize that my two years here will simply give me an experience that is particular to one tiny part of one small country on a large, misunderstood continent of our vast and nuanced planet."
Though Genn wound down this chapter in her life this past May when she started medical school at Florida State University, she said she will carry the experience of Togo and its people with her. "So many lessons of the importance of meeting people where they currently are and empowering them to take charge of their own health and well-being will inform my career as a physician," she said.
To reach this point, Genn said she relied on the confidence and leadership skills she learned through Phi Sigma Pi. Serving the Chapter's Executive Board for three years not only gave her experience in formulating ideas and making them a reality, she said, but in encouraging and empowering others to act then sitting back and letting them come into their own.
More than 5,000 miles from home and far from all things familiar and comfortable, Genn said her work in the Peace Corps is an excellent platform in which to live out the mission of social service.
"I work with individuals and groups in my community already motivated to improve their own circumstances and empower them to serve as role models for their village. I help facilitate and improve their skills in sharing information and helping their friends, neighbors and family (members) embrace these best health practices in order for their community to progress.
"(It's) an incredible opportunity to fully immerse yourself in service and grow … I cannot think of a better way to live out the mission of social service through the Tripod."
On the same continent but more than 4,000 miles to her south, Phi Sigma Pi Member Phillip Wright was doing the same.
Calling the Peace Corps the most rewarding, yet difficult, job he's ever had, the Gamma Iota Chapter Member learned that service is far more than "doing good and then going home to my comfortable apartment." Since volunteering in South Africa after graduation in 2016, Wright said, his world was flipped upside down. "Service for me, now, is about relationships, not just acts."
Every day, the School and Community Resource Program Volunteer said he tried to make his learners feel safe, loved and wanted. This has taught him to take himself away from his own expectations, his past and his privilege and become completely aware of the community in which he resided.
It was this community that made it all worth it, Wright said, while crediting Phi Sigma Pi for instilling the sense of Brotherhood that connected him to his fellow Peace Corps volunteers and South African community members.
Far from South Carolina or from wherever they all hail, the volunteers help one another prioritize their values. They are not there to save anyone or make anything perfect, Wright said. They are there, instead, to use their skills to better the communities with sustainable programs and practices. "I have friends for life that I've only known for a few months."
Whatever he ends up doing since leaving the Peace Corps, this Phi Sigma Pi Member wants it "to be helping others in a way that can be seen after I am gone. "
Aaron Edwards and Emily Blankenberger also wish to have this positive impact.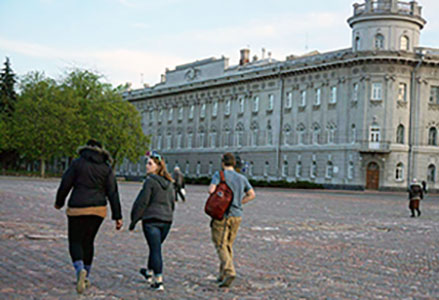 In March 2017, the two began work in the Peace Corps Community Development sector. Edwards, who graduated from Illinois State University with a bachelor's degree in business administration, is involved with a nongovernmental organization (NGO) in music education, while his partner, Blankenberger, who holds a master's degree in economic and community development from Illinois works with an environmental NGO, he said. They will continue their efforts through June 2019.
The couple credits Phi Sigma Pi with setting them on the path toward traveling to Ukraine as Peace Corps Volunteers, said Edwards.
The two met at the Delta Eta Chapter, where, Edwards said, the Fraternity helped them develop a strong foundation and gain skills through leadership opportunities and service projects. Both held executive board positions with the Chapter and "took advantage of the doors it was able to open for us."
"When we look back on our time in Ukraine, 20 years from now, the time we will remember most are the people," Edwards said. They are one of the most resilient and persevering groups of people they have ever met, he said. "It is just an absolute honor to be a part of their community. Seeing people so strong and determined but, at the same time, so willing to take in strangers from America is humbling and heartwarming."
In the end, Edward said, is the realization that the Peace Corps isn't all about teaching and helping, it is about learning from the people.
"We learned that tea time is all the time and that simple conversation and listening ears can change the world."