The National Office is a combination of National Council Members and the National Staff.
National Council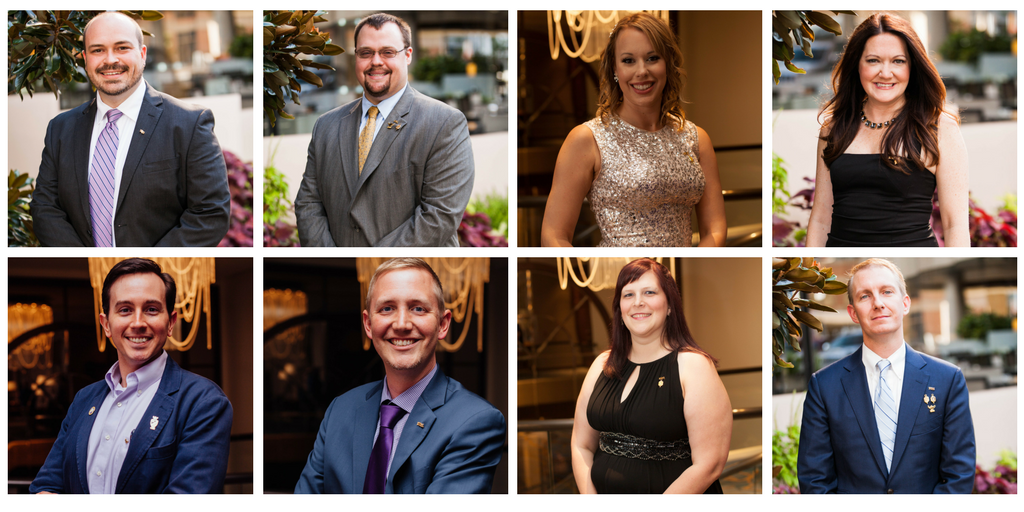 The National Council is the primary administrative arm of the Fraternity. It has the legislative power to conduct the affairs of the Fraternity between Grand Chapter Business sessions. The eight volunteer National Officers are elected to the National Council every two years by the Grand Chapter.
National President - Matthew Nicoletta (Beta Kappa Chapter '03)
Presides at all meetings of the Grand Chapter and National Council.
Appoints all Committee Members.
Ensures that all policies are carried out.
Email: nationalpresident@phisigmapi.org
Senior Vice President - Erik "Duff" Walschburger (Alpha Lambda Chapter '05)
Presides at all meetings of the Grand Chapter and National Council in the absence or inability of the National President.
Chairperson of the Constitution and Standards Committee.
Email: seniorvp@phisigmapi.org
National Secretary - Natalie Mikkelson (Gamma Epsilon Chapter '06)
Ensures the preservation of the National Constitution, Charters, rituals and all documents, records and supplies of Phi Sigma Pi.
Takes minutes at Grand Chapter and National Council meetings.
Chairperson of the Awards, Scholarships & Emblem Committee.
Email: nationalsecretary@phisigmapi.org
Vice President of Finance - Sarah Cantwell (Beta Sigma Chapter '03)
Signs warrants on the Treasury and contracts entered into by Phi Sigma Pi.
Authorizes warrants of the Grand Chapter.
Prepares an annual budget.
Records receipts and expenditures.
Serves on the Personnel Committee.
Email: vpfinance@phisigmapi.org
Vice President of Membership Development - Matt Peachey (Beta Psi Chapter '02)
Instructs Chapters on how to make efficient use of The Ritual.
Proposes changes to the National Guidelines on Initiation.
Email: vpmembershipdev@phisigmapi.org
Vice President of Chapter Development - Brian Christiansen (Alpha Eta Chapter '13)
Ensures the organization and installation of new Chapters.
Ensures that all information pertaining to the growth and expansion of Phi Sigma Pi is properly interpreted and disseminated.
Promotes communication and National unity among Chapters.
Email: vpchapterdev@phisigmapi.org
Vice President of Alumni Development - Kate McConnell (Gamma Phi Chapter '07)
Serves as the coordinating official for Alumni communications and activities.
Advises all Chapters on current Alumni events.
Liaison between Grand Chapter and Alumni.
Email: vpalumnidev@phisigmapi.org
Vice President of Philanthropy Development - Patrick Herron (Alpha Epsilon Chapter '96)
Leads and develops our efforts with our National Philanthropy.
Email: vpphilanthropy@phisigmapi.org
Email nationalcouncil@phisigmapi.org if you would like to contact National Council as a whole.
National Staff

The National Staff is made up of the individuals who run the operations of the Fraternity. Contact us if you have questions about forms, dues or any aspect of your Chapter's operations.
Executive Director - Suzanne Schaffer (Gamma Chi Chapter '98)
Provides leadership in developing program, organizational and financial plans with the National Council and National Staff and carries out plans and policies authorized by the board.
Establishes and preserves a climate which attracts, keeps, and motivates a diverse staff of top quality people, and serves on the Board of Directors' Personnel Committee.
Responsible for a working knowledge of significant developments and trends in higher education.
Maintains official records and ensures compliance with federal, state and local regulations.
Email: executivedirector@phisigmapi.org
Director of Communications - Adrienne Freeland (Alpha Zeta Chapter '07)
Maintains and updates the website.
In charge of the proper use of our name, letters and insignia.
Manages various Social Media accounts to communicate with Members.
Handles web communications, including eblasts.
Creates and updates marketing/training materials.
Editor our semi-annual magazine The Purple & Gold.
Email: afreeland@phisigmapi.org
Director of Leadership Advancement - Danielle Reidenbach (Chi Chapter '17)
Creates National, Regional, local and web-based opportunities for Phi Sigma Pi's award-winning Leadership in Action program.
Ensures effective training, retention and on-going support of Leadership in Action facilitators.
Presents Phi Sigma Pi's education/leadership programs.
Email: lia@phisigmapi.org
Director of Expansion - Jessica Iarocci (Epsilon Nu Chapter '12)
Organizes new Colonies by holding information sessions for the campus population, providing training and coordinating the Formal Induction Ceremony.
Ensures the ongoing success of our newest Chapters with regular follow up and support, including assisting existing Chapters with recruitment strategies.
Email: jiarocci@phisigmapi.org
Director of Alumni Relations and Programming - Sarah Smith (Epsilon Alpha Chapter '13)
Cultivates Alumni Relations and Volunteer Opportunities.
Maintains an evolving communication strategic plan for our Alumni and Volunteers.
Assists with National programs and initiatives, including working with our National Philanthropy.
Manages the Leadership Academy program.
Email: alumnirelations@phisigmapi.org
Director of Chapter Services - Meaghan Kauffman (Alpha Zeta Chapter '17)
Assists Chapters in reaching their full potential in the areas of Recruitment and Retention.
Manages and directs the Chapter Consultants.
Works together with Chapter Consultants to assist, improve and solve any outstanding Chapter or Member specific issues that are impeding Chapter operations and success.
Email: chapterservices@phisigmapi.org
Marketing and Communications Assistant - Casey Ellison
Lead recruitment and retention communications.
Assistant Editor of our semi-annual magazine The Purple & Gold.
Leads social media presence.
Assists with web communications, including eblasts.
Email: cellison@phisigmapi.org
Media Production Coordinator - Scott Parker
Creates video projects for departments.
Assists with writing copy, designing and preparing communications.
Aids in various techonology-focused intiatives.
Email: sparker@phisigmapi.org
Programming Coordinator - Kasi (Hicks) Dotterer
Lead the development, marketing and implementation of innovative and interactive National, Regional and Local web­-based opportunities for Members to earn points toward a Leadership in Action Certification.
Assist in the preparation of Local, Regional and National Leadership in Action Modules.
Markets and implements the Fraternity's educational/leadership training resources and tools.
Email: programmingcoordinator@phisigmapi.org
Alumni Relations Coordinator - Position Vacant
Builds Relationships and provides transparency for Alumni Members and Volunteers.
Delivers the daily functions of the National Alumni Association and its affiliated organizations (Alumni Organizations).
Encourages a strong bond between undergraduate Chapters and Alumni Members.
Email: alumnirelations@phisigmapi.org
Expansion Coordinator - Laura Eckenrode
Researches potential institution sites for new Phi Sigma Pi Chapters by coordinating initial conversations and planning visits to meet with administrators.
Hosts invitational meetings, tabling events, and one on one meetings with interested students at potential new Chapter sites to provide space for the student body to learn more about Phi Sigma Pi.
Provides guidance and training to Interest Groups as they set groundwork to become a Colony.
Email: expansion@phisigmapi.org
Administrative Assistant - Donna Lease
Answers general inquiries.
Receives all Chapter reports, dues and distributes fines.
Email: pspoffice@phisigmapi.org
Chapter Consultants
Chapter Consultants are your go-to resource as Chapters. Each Chapter is assigned a Chapter Consultant at the beginning of an academic year. They're there to guide you and suggest ways to make your Chapter the best it can be.
Mia Burke
Email: mburke@phisigmapi.org
Jennifer Kubala
Email: jkubala@phisigmapi.org
Vania Loper (Zeta Beta Chapter '14)
Email: vloper@phisigmapi.org