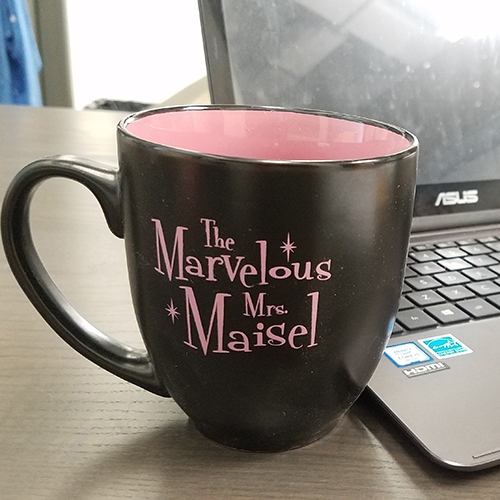 Allea Ortega started work, last month, as a data wrangler for reality TV series "Project Runway," now in its 18th season.

Pretty cool stuff! Right?

Sure, but its oddly anticlimactic considering she spent the past year working on the Golden Globe- and Emmy Award-winning comedy-drama "The Marvelous Mrs. Maisel"!

"I'm absolutely overwhelmed," said Ortega, in a phone interview following the Emmy announcement. "It's kind of an out-of-body experience. I'm working with so many talented people."
Ortega, is an Alumni Member of University of Colorado's Delta Sigma Chapter, where, she said, the students heavily tend toward the sciences. Majoring in film production, she was the only one in her Phi Sigma Pi Chapter who was studying in the arts.

Her path to "Mrs. Maisel" actually started before graduation in December 2017, when Ortega helped her film professor with a documentary in Guatemala. "The professor is a great friend and mentor," she said. As a matter of fact, he kept telling her 'if you are looking for a job in the film industry you need to live in NYC,' so a few months after graduation, she packed her bags and moved east.

"I lived in the basement of a friend of my professor, in Brooklyn ..." and took an entry-level film-editing job, she said. Mostly, she ordered lunch and fruit platters for clients, ran for coffee and oversaw unpaid interns.

But it's there she met the post-production supervisor from "Mrs. Maisel," who asked if she would be interested in working on the show.


Based in the late 1950s, "The Marvelous Mrs. Maisel" portrays "Midge," who lives a perfect life in New York's Upper West Side. Her life takes a turn, however, when she stumbles into the world of stand-up comedy, taking her to cafes and nightclubs in Greenwich Village as she learns about the industry.
Ortega knew nothing about "Mrs. Maisel," so she quickly watched the first season, she said. A couple months later she became a post-production assistant, working with Daniel Palladino and Amy Sherman-Paladino, a four-time Prime Time Emmy winner and the first woman to ever land comedy writing and directing awards at the same ceremony.

Though Ortega's job still includes a lot of coffee runs and lunch orders, there's also department coordination, data entry and quality checks—technical errors, sound discrepancies, credit scans. The latter of which she was doing just prior to this story's phone interview.

"It's certainly not your typical 9-to-5," she said, noting that sometimes her days continued until late evening. "In Season 2 we were editing while we were filming the next episode!" she said.


Not surprisingly, "Mrs. Maisel" was renewed for a third season – the second airs at the end of this month on Amazon.

Now part of the NYC TV industry and living in a "real apartment," Ortega feels fortunate to have learned the ropes on a production of this quality. "One of the great things," she said, "is that Amy and Dan want everyone in the show to know what's going on."

This means opportunities to sit in with the actors during "table reads." They go over the script, talking and making alterations. "I was in the room with Rachel Brosnahan (the show's lead), watching the process unfold," Ortega gushed. "I could see them make changes, watch their instincts and see how things changed at filming."
The experience, she said, took her back to a youthful moment of career clarity.

"I was watching 'The Making of StarWars, Episode 1' when I knew I wanted to be in film," she said. From there, everything pointed her toward the moment when the "Mrs. Maisel" office crew, wearing their production jackets, entered a Brooklyn bar, together, to watch the Emmys on the big-screen.

Her social media posts describe the moment.
---
As far back as I can remember, I've wanted to work in film and television. And last night I sat in a bar surrounded by friends and strangers watching my bosses walk on stage to accept not one but 5 FREAKING EMMY'S!!! … I cried because I have wanted this life as long as I can remember. I cried because, even just last year, I had no idea how to get to this place. …"
---
Suddenly, Ortega could see the dots connecting between dream and reality.

If she stays the course, her next step in the post-production world is to become an assistant editor, the film editor's right-hand helper. "They are really leaned on," she said of folks in those positions. "They need to be on top of things." But, Ortega admits she's got a few more years in the trenches, before that opportunity presents itself.

In the meantime, she collects experience and knowledge about the industry. For "Project Runway," where she began working as a "data wrangler" in mid-October, she will – puns intended -- "lasso all the hard drives and herd the shots from set to post production," she said.

The timing of this opportunity, she said, couldn't be more perfect.

"Mrs. Maisel" wrapped up for the season at the end of the month and won't start up, again, until February. "I've been really fortunate with 'Maisel' because it's been a stable job for eight months -- very rare in TV, especially just starting out."

Ortega credits her fortune with the ability to network. "Connecting with people and being engaged in your surroundings came from my involvement in Phi Sigma Pi," she said. "You can't help but get swept up in that – Brothers who are so motivated and driven. There is this sense of 'yeah; we are going to go out and run the world'."

Ortega's closest friends also are Phi Sigma Pi, she said. "We aren't the best at staying in touch, but I know they are there." She mostly appreciates that her Brothers come from across the map and are from completely different majors, giving unique perspectives, she said.

"Stay involved! You never know where the connections are going to come from."