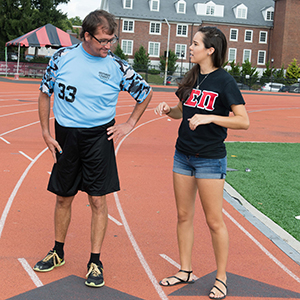 Each week, the Monroe County Special Olympics program manager and several athletes stopped by one of Chrissi Wolosz's sport management classes at East Stroudsburg University (ESU) in Pennsylvania. After a few weeks, Wolosz developed a rapport with one of the competitors, promising to cheer him on as he participated in Special Olympics flag football.
At the event, one of the athlete's relatives approached Wolosz to show his gratitude for her support. "To my surprise, this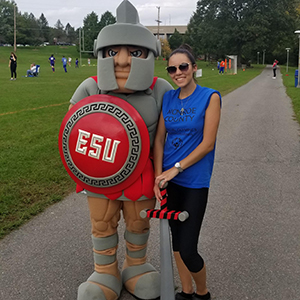 relative was my previous elementary music teacher!" Wolosz said. "This was a special moment for us, both, as we got to catch up on … nearly 15 years since we have seen one another."
This support, inclusiveness and bonding are significant components of the Special Olympics and ones Wolosz was able to embrace this past October as event director of the 2018 Monroe County Special Olympics Fall Invitational.
Appointment to the position, it seems, was a natural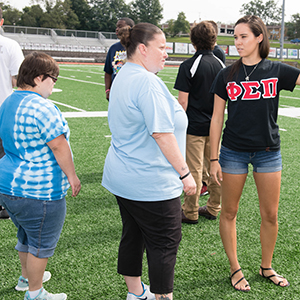 progression in her education and goals.
In high school Wolosz was a varsity athlete and an officer in the FBLA business club. She also was a Special Olympics volunteer buddy.
"My love for both the sport world and business industry grew," Wolosz said. "When I discovered the major of sport management, I knew instantly what I wanted to do." And, because East Stroudsburg University has an established and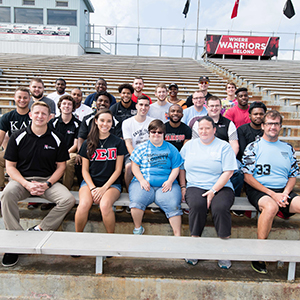 renowned sport management program and is "conveniently located in my home town, it was a bit of a no brainer" where she would attend.
At ESU, upper level sport management classes are designed for students to create their own organizational structure, Wolosz said. Her class chose to assign administrative positions by popular vote, and, in the end, she was elected as director of the new Invitational event.
Wolosz said she worked closely with all event departments over a five-week period, applying managerial skills while also giving back to the community. "The reward of this event exceeds that of monetary compensation."
Though the Fall Invitational is new to East Stroudsburg University, this year marked the 50th anniversary of the Monroe County Special Olympics, which brings together regional athletes and college and community volunteers.
"Being a part of Special Olympics was an honor and, although I did not know any athletes going into the event, I came out as friends to many of them!" Wolosz said, noting that it's a boost to the community where she has lived most of her life.
This connection to community inspired Wolosz to become a Member of the Rho class of the Epsilon Omicron Chapter in the fall semester of her sophomore year at ESU in 2016. "Being from the area, I wanted to expand my horizon of meeting new people with the same mindset of holding academics to a high standard, getting more involved throughout campus and the community and to be a part of something bigger than myself."
Though her work with Special Olympics wasn't a direct result of her association to Phi Sigma Pi, Wolosz said confidence gained within the Fraternity assisted her in securing the position and succeeding. Her leadership role also presented an opportunity for her Chapter to become involved. "Many Brothers came out and showed their support to the athletes as well as represent our Chapter," she said.
Wolosz has remained an active member of Phi Sigma Pi thanks to support from Members, she said, and due to a variety of service opportunities. A favorite was the opportunity to tutor middle school math students.
Additionally, Wolosz said, the Chapter serves soup kitchens, highway clean-ups and fundraisers for shelters and charities, and the networks established through their service work, she said, has broadened connections to other organizations at school, making the Epsilon Omicron Chapter more visible on campus and in the community.      
This networking pops up in personal areas of Wolosz life as well. She is passionate about spending time with her family -- she has a 6-year-old nephew "who is my pride and joy in this world" -- traveling, experiencing new things and meeting people.
This past summer Wolosz took several road trips through the Midwest and along the East Coast where, in addition to adventure, she also discovered interest in getting to know people as individuals.
"Some would say I know someone from everywhere because of the connections I create with people throughout my life journey."