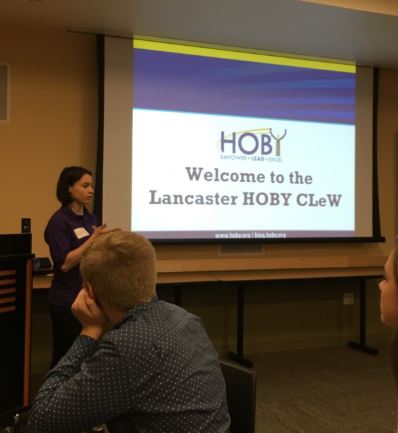 My journey with HOBY started as a volunteer after Phi Sigma Pi and HOBY entered into a philanthropic partnership at the 2015 National Convention. At first, I volunteered to understand HOBY a little bit more so that I was well informed when Members asked questions about ways to volunteer. However, after my first time volunteering at a HOBY Community Leadership Workshop (CLeW), I realized I had a passion for teaching students leadership skills. Volunteering for a HOBY CLeW was one way that I could utilize that passion, however, planning my own CLeW has taught me more about myself and new skills that I can even use in the workplace, all while giving back. 

What is a CLeW?
The Community Leadership Workshop (CLEW) is HOBY's introductory one-day leadership program for high school freshmen. A typical CLeW is six to ten hours long, with 50-100 freshmen participants, and focuses on leadership as a discipline to be explored and learned.
HOBY CLeW students interact with local community leaders, participate in group activities and conduct community service projects. CLeWs are organized, developed and implemented by local business leaders, civic groups, volunteers and HOBY alumni.  There are no fees associated with attending a CLeW. 


How Your Chapter Can Plan A CLeW
You can plan a CLeW individually or as a Chapter. For this blog post, we are going to talk about planning one as a Chapter. 
3+ Months Out
Step 1: Create a HOBY Committee or use your Service Chair/Committee.
Step 2: Contact your State CLeW Director or Leadership Seminar Chair to get approval from the State HOBY Affiliate in order to host the CLeW. You will work hand in hand with the HOBY Affiliate. This person will give you more details on what happens during a CLeW. See if this person would want to come talk to your Chapter in person to help you get started. 
Step 3: Pick a date- Remember to look at local high school calendars. 
Step 4: Request a room on campus to hold the CLeW. Pick a room that is big enough to hold at least 50 people with tables and chairs. I found out that round tables or putting people in groups works best.
Step 5: Ask for donations from local businesses (grocery stores, printing companies, restaurants, service organizations, etc.).
Step 6: Start putting together a schedule. Your HOBY Contact can help you with this step. There are several ways you can form your day but here is a Sample CLeW Program: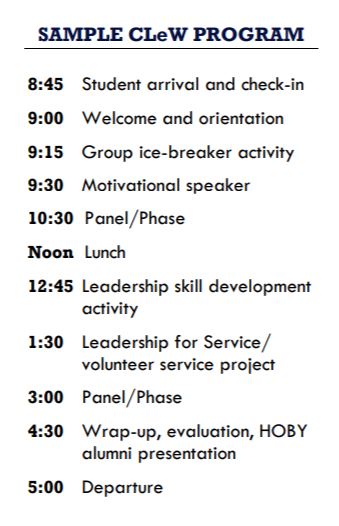 Here is a schedule you can use with Phi Sigma Pi materials: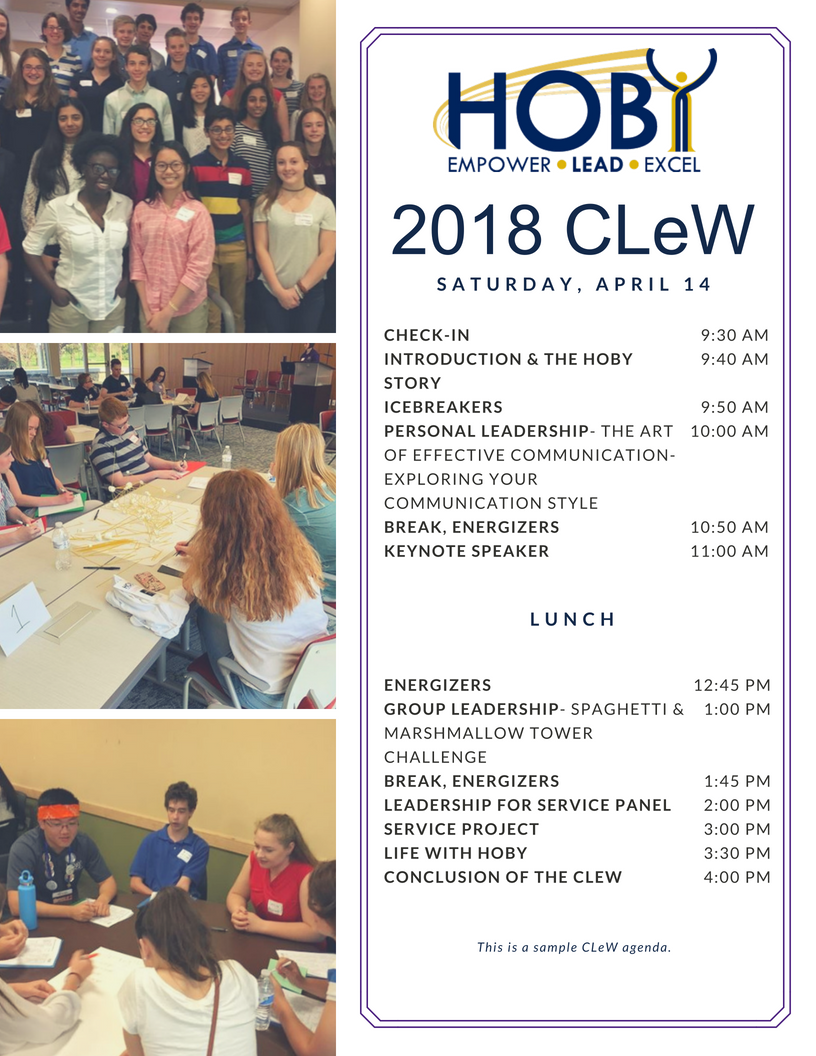 2+ Months Out
Step 1: Contact or choose speakers. Use speakers in the community or Members of your Chapter. 
Step 2: Identify School(s) and work with your HOBY contact to invite 9th graders. Invite freshmen students from all local schools. CLeWs should have a minimum of 25 participants.
Step 3: Contact HOBY Alumni and your Chapter Members to get a definite number of volunteers for the event.
1 Month Out
Step 1: Follow-up with volunteers.
Step 2: Prepare PowerPoint Presentation for the CLeW and piece together the schedule.
1-2 Weeks Out
Step 1: Create registration check-in list
Step 2: Make reminder calls to CLeW Ambassadors
Step 3: Gather supplies needed for CLeW
Step 4: If supplying lunch (you also may ask students to pack a lunch) make lunch plans (catering/ordering pizza/etc.)
Day Of
Conduct the CLeW with help from your Chapter.
1 Week After
Step 1: Your HOBY Contact will help you with this step with the HOBY report template.
Step 2: Mail thank you letters
Want to learn more? Watch this Lunch & Learn Webinar or contact hoby@phisigmapi.org for more information.