Meet Tara Buthod, President of the Alpha Chapter at the University of Central Missouri. Read on to hear about Tara's HOBY experience and your Chapter can support HOBY.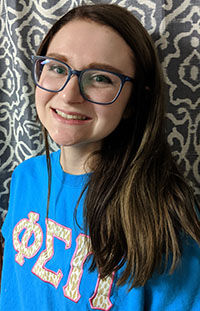 How did you get involved with HOBY?
I attended the Missouri HOBY Leadership Seminar in the summer of 2015 when I was a high school sophomore. This was held at Southeast Missouri State University in Cape Giradeau, MO.
How has your Chapter supported HOBY?
The Alpha Chapter has been able to raise enough funds for the past couple of years to sponsor a local sophomore from our area to attend the State Leadership Workshop. We are hoping that the Brothers after us will continue to support HOBY in this way.
What does HOBY mean to you? How have you grown as a leader through HOBY?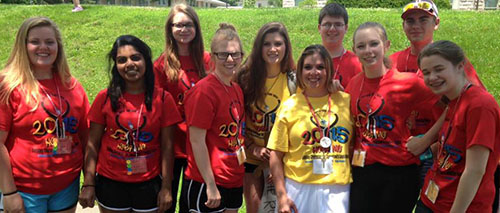 HOBY will always hold a special place in my heart. Even though HOBY isn't incredibly popular around the area, there are actually several 2015 HOBY Alum on campus with me. During Recruitment one semester I actually got connected with a PNM who was also a MO HOBY 2015 Alumni! She is now one of my best friends in chapter. It's a small, small world. One of the coolest experiences at HOBY was when we did the true color test and I was able to connect with a room full of other "golds." We talked about our strengths, weakness and stereotypes that are hurtful. In that moment, I felt so validated and was able to see that there were other people going through the same thing as me. We were also able to participate in a service project where we made tie blankets for St. Jude's Children's Hospital. Overall, the experience was so uplifting and really encouraged me to become a better leader. I tend to be a "natural leader," but the experience pushed me to really go for the positions that I want. The next semester I served as the President of the largest organization at my school as a junior. 
How did you get involved with Phi Sigma Pi? What attracted you to PSP?  Why did you join?
I had an older co-worker that went to UCM and told me about Phi Sigma Pi. Once I came to campus I inquired about joining and convinced my fiance (then boyfriend) to join with me. I really wanted something that would get both of us involved on campus where we could meet new people and get out of our dorm. I was even more impressed when I found out that our Chapter has formals and is much for affordable then social Greek organizations on campus. My fiance and I love the fact that we have a group of mutual friends to hang out with and do all the fun activities our committee chairs plan for us!
How does supporting and engaging with HOBY advance our mission of Improving Humanity with Honor?
HOBY's organizational  values are very similar to that of Phi Sigma Pi's. HOBY is all about creating and fostering leadership skills in today's youth. It is no surprise that youth would take to heart what us, as college students, would have to say more so than an adult (like a teacher, coach, or parent) simply because we are closer to their age. Sure, I loved both of our mentors at HOBY, but I definitely confided in and adored our junior mentor more because she was in college and closer to my age. I think helping with HOBY, no matter how big or how small, makes the whole picture come together. Sending that one student each year can make a huge difference in that student's life and can in turn affect their community. HOBY is also a wonderful fellowship experience. I met some really awesome people that I am still in touch with across social media platforms. I absolutely loved my HOBY experience and love that I get to continue to support HOBY through being in Phi Sigma Pi!
---
Are you a HOBY Alumnus and/or Volunteer and looking to learn more about Phi Sigma Pi? Visit phisigmapi.org/hoby to get started!
Are you a Phi Sigma Pi Member looking to get involved with HOBY? Then phisigmapi.org/service is the place to be.