Phi Sigma Pi's Mission Statement reads, "Phi Sigma Pi National Honor Fraternity is a gender-inclusive organization dedicated to: promoting lifelong learning, inspiring Members to lead, and cultivating lasting fraternal bonds, while always conducting our lives with honor. We consecrate ourselves to a life of social service with the goal of improving humanity through our principles: Scholarship, Leadership, and Fellowship."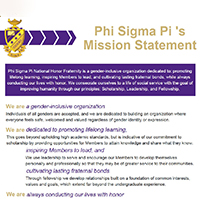 Q: What is the significance of having a mission statement?
A: Our mission statement provides focus and direction for our Fraternity and guides everything that we do as individuals contributing to our common goal. It's important that Members understand our mission and the meaning behind each aspect of Phi Sigma Pi's Mission Statement.
Q: How can we live into the mission as a Chapter?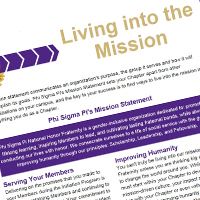 A: As a Chapter, you have a responsibility for Living into the Mission of Phi Sigma Pi in everything that you do as a Chapter. You should keep our mission in mind when recruiting new Members, planning events and representing our Fraternity within the campus community. This will set you apart from other organizations on campus as you work to improve humanity with honor.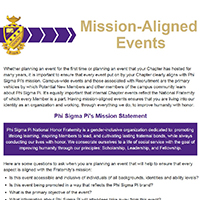 Q: What does the Mission Statement have to do with planning events?
A: All of your Chapter's events, including campus-wide events and those associated with Recruitment, are the vehicles by which Potential New Members and other members of the campus community learn about Phi Sigma Pi. Having Mission-Aligned Events ensures that you are living into our identity and communicating our values as an organization.
Check out the Resource Center to learn more about how to live into our mission in your respective role within the Chapter. Request additional resources on the mission and other topics relevant to you by emailing ask@phisigmapi.org.