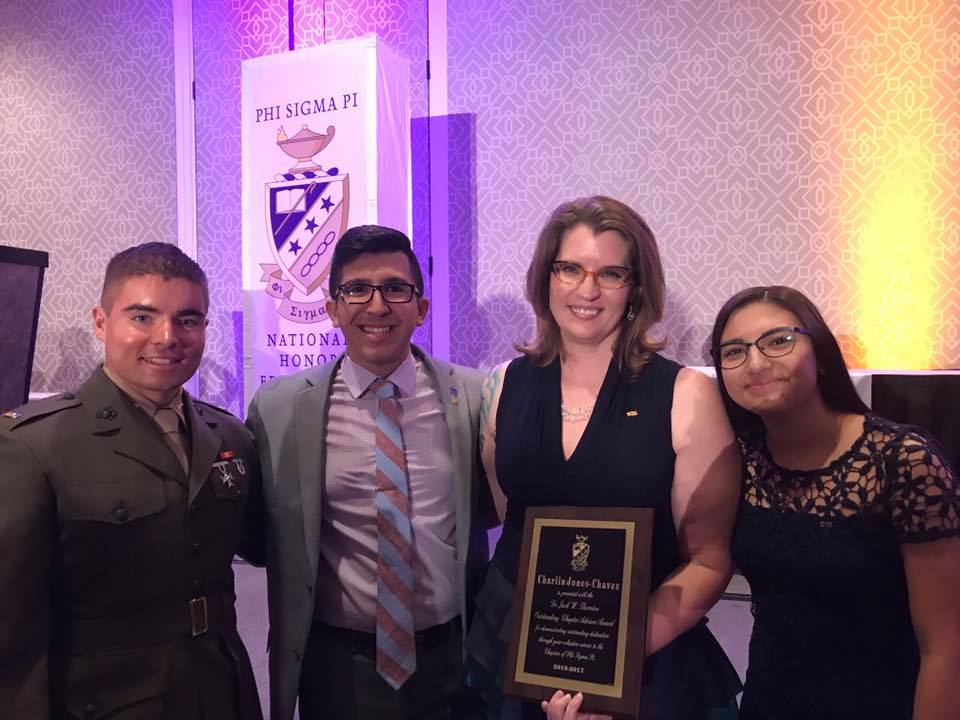 Being with the Epsilon Mu Chapter for more than a decade (and from the start), you could say Chapter Faculty Advisor Charlin Jones-Chávez is the foundation of the Chapter at the University of Texas at San Antonio. Being there to watch nearly 300 Chapter Members start and continue their journeys in Phi Sigma Pi makes Jones-Chávez an incredible resource for the Chapter. For her job, Jones-Chávez works with a lot of student organizations; however, for the Epsilon Mu Chapter, she is an Honorary Member, as well. 
Jones-Chávez assists the Chapter by giving Members advice and attending events such as the Chapter's annual Brotherhood Retreat. Her dedication continues on the National level, too. Jones-Chávez has attended several National Conventions and has volunteered at the Phi Sigma Pi Regional Leadership Academy, which, with her help and support, was hosted at the University of Texas at San Antonio in 2017. It's no secret why this committed Advisor has been awarded the Outstanding Chapter Advisor Award (recently renamed Jack W. Thornton Outstanding Chapter Advisor Award) in 2012 and 2017.
"I am certain that I am the leader I am today because of her continued dedication to helping students realize their potential," said past Epsilon Mu Chapter President and current National Council Senior Vice President, Jonathan Moreno, about Jones-Chávez. "I believe Charlin has gone above and beyond when it comes to showing her dedication to the Chapter."
Charlin is the Senior Associate Director for Student Activities at the University of Texas at San Antonio (UTSA), a Hispanic Serving Institution located in San Antonio, TX. Charlin is also an alum of UTSA herself having graduated with a Master of Arts in Adult and Higher Education in 2007 and a Bachelor of Arts in Interdisciplinary Studies in 2002. She is currently working on her doctorate in Educational Leadership.