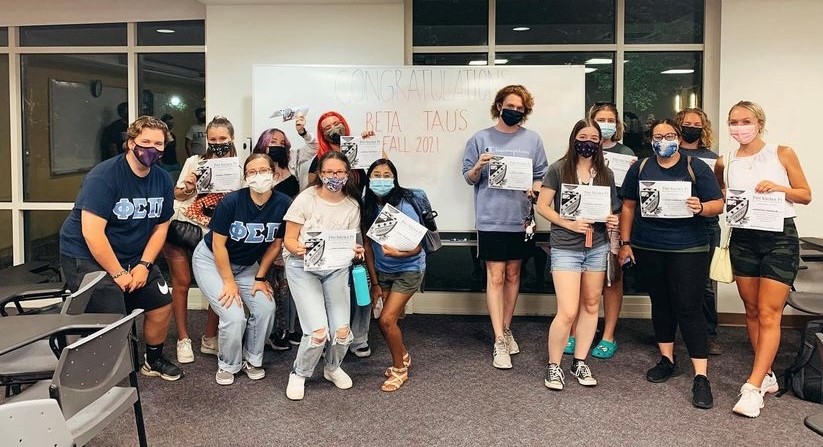 Phi Sigma Pi is recruiting achievers that are passionate about developing as leaders and improving humanity through scholarship, leadership and fellowship. Does that sound like you? You're invited to meet our Members and learn about the process of joining Phi Sigma Pi at one of our upcoming events!
Delaney George, Member Inclusivity Co-Chair, DG945731@wcupa.edu
Angie Tucci, Member Inclusivity Co-Chair, AT957326@wcupa.edu
Hello! Our names are Delaney and Angie and we are sophomores are West Chester University. We both come from a small town called Schuylkill Haven. Angie and I have been friends for years and are so excited to be working together as Member Inclusivity Co-Chairs! Angie and I joined Phi Sigma Pi during the beginning of the pandemic in hopes of meeting new people while being home and online for school, but Phi Sigma Pi has given us so much more than just new connections. Phi Sigma Pi has given Angie and I a family on campus. Coming back to West Chester after being virtual for so long was terrifying, but our Members made the transition so easy and that is what Angie and I plan to do for the new recruits. We are so glad we went out for Phi Sigma Pi and can't wait to see what new connections and lasting friendships we make while Member Inclusivity Co-Chairs. We hope you will attend our Recruitment because Angie and I know what it is like to feel like you don't fit in and we want to make sure each potential new Member never feels this way while on campus. Attending our recruitment events will give you the opportunity to find out that Phi Sigma Pi is the place where they belong. Joining Phi Sigma Pi is a decision you will never regret! Reach out to us with any questions!