Phi Sigma Pi is recruiting achievers that are passionate about developing as leaders and improving humanity through scholarship, leadership and fellowship. Does that sound like you? You're invited to meet our Members and learn about the process of joining Phi Sigma Pi at one of our upcoming events.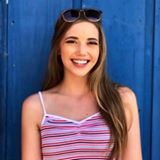 Macy Cecil, Recrutment Advisor,  pspbeta.rushadvisor@gmail.com 
I'm a junior Political Science and English major from Dexter, MO. Phi Sigma Pi has given me a place that feels like home. I'm surrounded by friends that have become family. I know the relationship I've made and leadership skills I've gained are going to stay with me for a lifetime. My favorite Phi Sigma Pi event is PSProm! We all get to dress nice and have a night of dancing and fellowship. I hope you will attend Recruitment because Phi Sigma Pi makes everyone's college experience better. You gain great professional skills you'll need after you leave school, while also meeting people from all different walks of life that you'd otherwise never know. Those same people turn out to be the greatest friends you could ever have!