Surge (n): a strong, wavelike, forward movement
Surge is Phi Sigma Pi's new Recruitment initiative that is designed to support our Chapters in increasing the number of Potential New Members that go through their Recruitment process. So, what is Surge? Here is a simple snapshot of the process: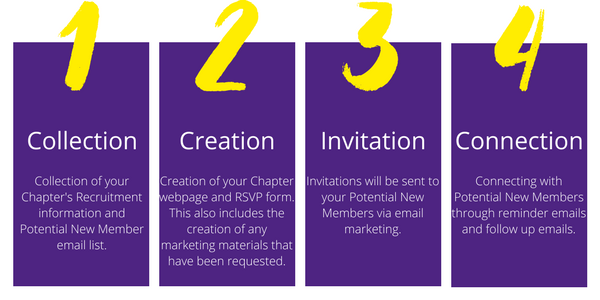 Webinar
To learn more about this process and prepare to participate, view this recording from one our Surge Webinars.
Recruitment Materials
Download professionally designed Recruitment materials in the Resource Center. If you would like your Recruitment materials customized or would like a material that is not already provided, please request it below.
Note: Please allow up to one week for the creation of your customized materials. If you have any questions or concerns, contact your Surge Communications Contact.
Enroll
Enrolling your Chapter in Surge unlocks valuable Recruitment tools such as:
Customized Chapter Dashboard to organize Recruitment
Customized web page on the phisigmapi.org website
RSVP form to collect information on PNMs including who to expect at each event
FREE Recruitment emails