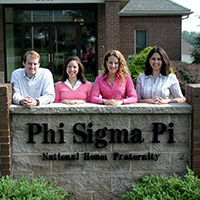 Colleen Donathan Arnett admits to joining the Phi Sigma Pi Beta Omicron Chapter in 1997 simply because she was looking for something to do. "I wanted to get involved in something, and I already knew some people in the Chapter."
Little did she know that the first Invitational Meeting would lead to a lifelong connection to Phi Sigma Pi, to her best friends and to an opportunity to give back to an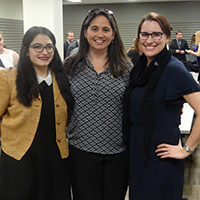 organization that gave her so much.
Arnett, who graduated from University of North Carolina Wilmington in 2000 with a degree in marine biology and with a master's degree in higher ed administration from Boston College, has supported Phi Sigma Pi in a variety of roles. She has reached out to Collegiate Chapters, is a past President of the Phi Sigma Pi Foundation Board, has been a Faculty Advisor, is a former Staff Member and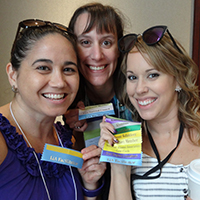 is presently a Chapter Excellence Board (CEB) Advisor.
In her world, she said, volunteering is a way of thanking and giving back.
"I want to show appreciation for the rewarding and successful experiences I had in college," she said. "I continue to offer help because there are ways I can be useful and can support undergrads to experience what I did at the Chapter level. It's a pay-it-forward approach."
"They want to know what Phi Sigma Pi could look like on 'my campus'."
Arnett, who works now as Coordinator of Operations in the Residence Life Office at Bellarmine University in Louisville, Kentucky, said she found out about the Chapter through a letter in her college mailbox. "That was the main method of communication at that time," she said.
From that first meeting, she said she immediately began connecting with students from all across the university in a vast variety of majors. "They were in the business school or education, and I would not have run into them otherwise," she said of the more than  10,000 students at UNC-Wilmington. This opportunity to connect with a much more diverse population is one of the highlights of her student experience with Phi Sigma Pi and a main reason for why she gives her time to the organization, post-graduation, to ensure that other students can experience something similar.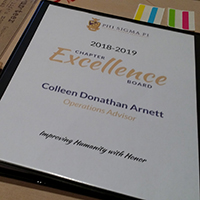 "I began volunteering with Phi Sigma Pi after graduation because of the example I saw in other (Alumni Members)," she said. "There were groups of Alumni who stayed connected to our Chapter and to the National Fraternity."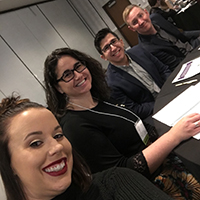 From 2015-2017, Arnett was a Faculty Advisor with the Eta Eta Chapter. Living in Michigan at the time, the connection made sense. "I wanted to give back to Phi Sigma Pi, and the opportunity was right there," she said. She's proud to say she was instrumental from the beginning, as the Chapter was becoming established.
This inspiration has pulled her toward not only giving back at the local level but at the National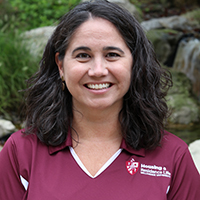 level, as well. "I saw many more ways I could be involved," she said of her time serving on the Foundation Board and other committees.

Today, Arnett is Operations Advisor for her group of schools within the CEB -- an extension of the National Office's Chapter Services team, which provides support to Chapters from engaged and knowledgeable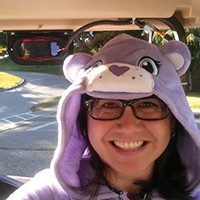 Alumni Members. Arnett said, in this role, she can give guidance to thriving and emerging Chapters and is there to bolster those Chapters that are "still trying to figure out what it's all about."
"It's a great learning experience to be a CEB Advisor," she said. "This pilot program has so much value. It will make our Chapters stronger. They will look to us as a resource. … They want to know what Phi Sigma Pi could look like on 'my campus'."