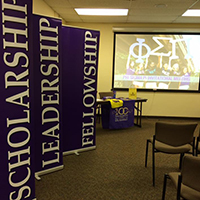 There seems to be a common denominator among members of the Phi Sigma Pi National Staff ... a sincere passion to assist others on their journeys as they become the best they can be.
This sentiment is repeated over and over in conversations and actions, and Meaghan Kauffman, Director of the Fraternity's Chapter Services, is certainly not an exception. As a matter of fact, she started her career as a teacher – an ultimate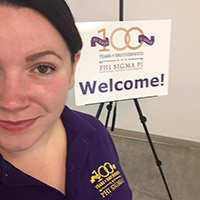 calling to help young people reach their potential.
It was Jane Dodson, an English teacher at William Penn Senior High School in York, Pennsylvania, who spurred on Kauffman to become an educator. "She was awesome and inspired me," Kauffman said, noting that Dodson had her students write letters to their five-years-in-the-future selves. She mailed the letters a half a decade later so the students could make life-goal comparisons.
It was this teacher's confidence in her abilities that steered Kauffman toward the classroom. 
After high school, she worked, briefly, in human resources and ITS and then attended college for secondary English education. However, Kauffman said, part way along the journey, she realized she didn't like literature as much as she thought she should … especially if she was to be a lifelong teacher of the subject. 
But she felt her path was already set, so she graduated from York College of Pennsylvania in 2012 with a bachelor's degree in secondary education-English. Immediately after, she became a middle school teacher at a charter school in York City, where she had spent time as a student teacher.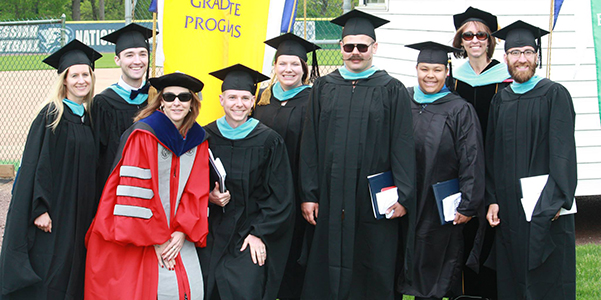 "I had four classes of sixth graders," she said of her brief time in the classroom.  
A year later, following a friend's suggestion that higher education might be more her speed, Kauffman took a job as an office coordinator and, later, assistant director of student engagement and leadership at Lancaster, Pennsylvania's Franklin & Marshall College (F&M).
At the same time, Kauffman was attending Messiah College for her master's degree in higher education. After graduation, she tried her hand in the classroom again, teaching a few courses at Harrisburg Area Community College.
"I had an amazing boss at F&M (Kelly Kennedy) who also cared about my personal success," she said. This support is what helped spur her on to greater passions and, in 2016, she landed at Phi Sigma Pi National Honor Fraternity National Headquarters.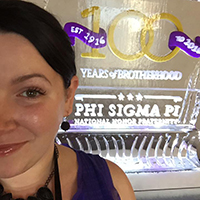 "I was not in a Chapter in college," she said of her familiarity of the organization, "but I knew about it because there was a Chapter at F&M. I loved Phi Sigma Pi." Kauffman would later become an Honorary Member of the Alpha Zeta Chapter at York College of Pennsylvania, her alma mater.
Now working with the Fraternity for nearly three years, Kauffman's focus is in recruitment -- supporting Chapter Consultants as they support Chapters.
"There is so much growth that happens at this time." 
In this capacity, Kauffman also creates training and resources, designs programming on mission and identity for Leadership Academy, and she guides Chapters in risk management.
"Seeing the growth of Chapters … that have struggled as they face challenges and come back, that is rewarding," she said. 
"We take those opportunities to say, 'This happened. What's next; how can we make the most of it?'."
Kauffman said she sees college as rich soil and Phi Sigma Pi as an opportunity for students to really bloom. "There is so much growth that happens at this time," she said. 
Kauffman wants to continue to work with Chapters, to help them plan successful events, as they become more well-informed about expectations, she said. And she'd like to see recruitment be more mission-focused, with events and discussions more values-based.
"Everything you do must be done with the (Phi Sigma Pi) values in mind," she said. "When you work with Members and other Chapters, values should always be at the forefront. Your actions should correlate to your words."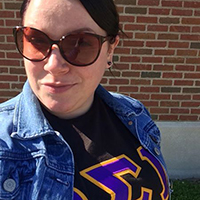 A true extrovert, Kauffman's lively interaction with Chapters and Members is an inspiring fit, and this personality trait carries over outside of the office, as well. Kauffman said she spends a lot of time with a large group of friends -- "we're always out and about" – and with her "zoo." She now has just two boxers who keep her company at home, but she has had as many as six cats and dogs in the past. 
Though she is beginning to "more and more enjoy being at home … relaxing and down time," the extrovert in her likes to be on the move, loving travel opportunities and eating good food. 
Travel is about 15 percent of her job and is also a good part of her personal life. "I was in Puerto Rico before the hurricane (Maria in 2017)," she said. "It is absolutely beautiful. I love the food and the beaches." She said she can't wait to go back.