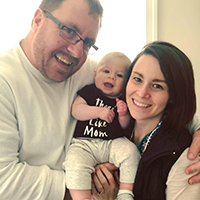 In addition to raising an industrious, 14-month-old toddler with husband, Eric, Danielle Reidenbach teaches Fit4Mom Stroller Strides and Body Back fitness programs, plus she works out at a CrossFit gym and Orangetheory Fitness in Lancaster, Pennsylvania.
 
Making full use of her waking hours, she's as dedicated to the mission of Phi Sigma Pi National Honor Fraternity and working to stay connected with students, as she is to her fitness regimen. Being a positive influence in the future endeavors of Members is what her 9 to 5 is all about.
Reidenbach graduated from Kutztown (Pennsylvania) University in 2010 with a degree in electronic media and, right out of school, took a job producing newscasts with WGAL, a Hearst Communications television station and NBC affiliate in Lancaster.
Though there was a brief time in college when she considered switching her major to something in higher ed, she said, her passion in media was sparked at an early age. "I had taken a broadcast workshop in middle school. … I loved it; I loved news."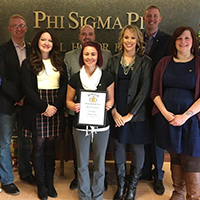 After a few years with WGAL, however, Reidenbach realized that to advance in broadcasting she would need to move away to a larger broadcast area. She had lived in Lititz, Pennsylvania, her whole life, graduated from Warwick High School in 2006 and was dating her husband. She had no interest in leaving the area.
Fortunately, for Phi Sigma Pi, she saw an online job listing and applied, and, five years ago, a few months before marrying Eric, who she met through another fitness endeavor -- adult softball -- Reidenbach joined the Phi Sigma Pi National Staff.
 
She was brought on as an editorial production assistant, working on the Purple & Gold magazine and other Fraternity publications.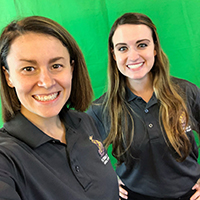 Though she had not been a Phi Sigma Pi Member in college, she was familiar with the ways of fraternities from her connection to Kutztown University's Theta Phi Alpha. "I love what Greek life stands for if done correctly," she said in a recent interview. "I love the history of it, the organization, how it was formed and how it has lasted all these years."
 
Two years in, Reidenbach took on Leadership in Action (LiA) and Leadership training, and, today, she is Director of Leadership Advancement, creating national, regional, local and web-based opportunities for Phi Sigma Pi's award-winning LiA program. She also ensures effective training, retention and ongoing support of Leadership in Action Facilitators. Along with Programming Coordinator Kasi Dotterer, Reidenbach presents at Phi Sigma Pi's education and leadership programs across the United States.
For many, Phi Sigma Pi is seen as an incubator of personal and professional growth. This holds true for Reidenbach, as well. Managing another person was a new endeavor as was speaking to others on a larger scale. "I was always in the background," she said, of past job experience. But she's learned that what she tells LiA Facilitators is legit, practice makes it easier.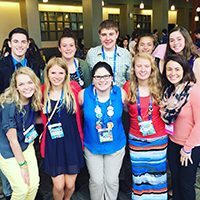 A 2017 Honorary Member of Phi Sigma Pi's Chi Chapter and a CLeW Director for Central PA Hugh O'Brian Youth Leadership, Reidenbach also has had the opportunity to travel across the U.S. for leadership events, conferences and National Convention.
The travel, she said, is one of her favorite parts. "I get out of the office and I'm meeting the Members. I'm making a difference."
Ultimately, Reidenbach said she feels best when coaching others to reach their full potential -- a mom after having a baby, HOBY high schoolers as they gain skills and feel excited about changing the world and Phi Sigma Pi Members through LiA.