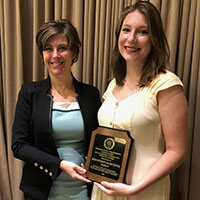 The Professional Fraternity Association (PFA) represents more than 100,000 undergraduate and graduate students on more than 1,000 campuses across the United States. The organization supports dozens of fraternal member groups as they preserve high standards on campus and in professional practice.
This year, at the organization's National Convention, held Sept. 6 to 9, in Wichita, Kansas, Phi Sigma Pi National Honor Fraternity was recognized with three awards.
The National Office was selected as recipient of the PFA's Outstanding Professional Program award in recognition of Surge, a recruitment program the Fraternity uses to support Collegiate Chapters in achieving their full potential by giving them tools and resources for success.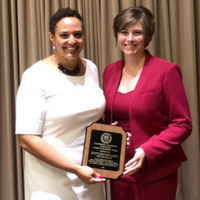 In addition, Gretchen Bellamy, of Chapel Hill, North Carolina, a University of Delaware, Phi Sigma Pi Alpha Eta Chapter Alumna, earned the PFA's Career Achievement Award. This recognition is given to a distinguished member of national or international renown who is actively engaged in the Fraternity's discipline and is actively participating on a regular or continuing basis.
Also, the PFA Outstanding Community Service Award was presented to Phi Sigma Pi Eta Mu Chapter at Rowan University in Glassboro, New Jersey, for dedicated personal and financial support for the betterment of the Phi Sigma Pi community. The Chapter planned a Hoops for Kids event to raise awareness and funds for the Children's Hospital of Philadelphia.
This is the second year in a row that Phi Sigma Pi has landed the Outstanding Professional Program award. At last year's convention, Phi Sigma Pi was recognized for the Fraternity's Leadership Academy program.