Whitney Ly (Eta Lambda Chapter '20) took the Phi Sigma Pi mission of "Improving Humanity with Honor" quite literally, when, in spring 2018, she traveled to Honduras for a weeklong medical mission trip. While volunteering with the the Global Brigades organization of the University of the Sciences (USciences) in Philadelphia, Pennsylvania, she learned more about herself and her desired career in healthcare.
After researching the Global Brigades organization, Ly traveled to Honduras with several other students from USciences. They stayed in Posada Azul, Moroceli, and volunteered in the medical and dental clinics in San Francisco, a municipality of Lempira in Honduras. The students also worked with the Water Brigade in Los Terrones, El Paraiso. The main purpose of the mission was "to help empower the local communities through sustainable health projects," Ly said. They built eco-stoves, provided health clinics and dug trenches to help bring water to the community, Ly said. 
"I have always wanted to volunteer for a medical mission trip, but the opportunity never presented itself to me until now," she said. Before going to Honduras, Ly had just finished her fourth year of college in which she had learned about disease states (high blood pressure, diabetes, asthma) and how to treat them. She was able to immediately apply her education to the care of Honduran patients.
As soon as she landed in the Central American country, Ly's volunteer responsibilities and medical knowledge were put into action in the elementary school medical and dental clinics, she said. "I rotated through different stations including intake, triage, consult, dental, charla (an educational program to teach the community about self-care) and pharmacy," Ly said, noting that she performed vitals, blood glucose screens, diabetic foot exams and provided drug recommendations to the physicians. "Every day," she said, "was a new experience with new challenges."
While in Honduras, Ly and the team of volunteers saw more than 500 patients. "The community members of Honduras were absolutely incredible," she said. "They were always warm and welcoming no matter the situation. They always had smiles on their faces even if they had to wait in line for hours just to see the physicians at our clinics. … [The Hondurans] welcomed us with open arms and always tried to take care of us."
With a long-term career goal in clinical pharmacy, Ly's trip to Honduras helped her solidify the path. "Volunteering with Global Brigade has greatly impacted my perspective on health care," Ly said. "I got the opportunity to work with a completely new patient population in a foreign setting while being hands-on in our outpatient clinics. I was able to learn a tremendous amount in such a short period of time. Every person that I met, lesson that I learned and conditions I helped treat, contributes to my goal of being a clinical pharmacist."
In 2017, Ly became a founding Member of the Eta Lambda Chapter at USciences "because I wanted to help create a unique, interprofessional organization on campus, where students from all different majors can collaboratively join to promote leadership and camaraderie," she said. As vice president, she wanted to be part of creating something and leaving a legacy on her campus.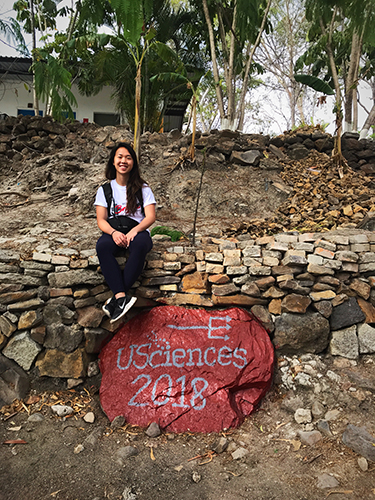 It was the teamwork, stressed by Phi Sigma Pi, that prepared Ly for her volunteer work in Honduras, she said. Learning to collaborate with others in her Chapter - regardless of their major or background - to create new and successful ideas, is a significant skill she took with her. "It was the exact same environment," she said. "The team members (36 USciences students) were from all different majors and different educational levels. As one of the older students, I had to learn how to adapt and take on more of a leadership role," which, she said, her experience as vice president of Phi Sigma Pi provided. 
As this was Ly's first time volunteering for an organization such as Global Brigade, she said she was unsure of what to expect, but after her experience, she is eager to volunteer again. "I want to go on a mission trip every single year because I had such a positive, life-changing experience."
Ly now encourages others to consider a mission trip. "At first, you may be very hesitant," she said of safety, financial or comfort concerns of traveling to a developing country, but her advice: "Do your research and go for it."
Ly also counsels Members, who wish to live the Phi Sigma Pi mission of "Improving Humanity with Honor," to keep an open mind about everyone and everything. "You can learn something new from each and every person you meet. You do not have to go to a developing country to make a significant impact on someone's life. Just be a good person, and treat others the way that you would want your mother, father, sister or brother to be treated."
As founding vice president and current president of Phi Sigma Pi's Eta Lambda Chapter, volunteering in Honduras is one of the most challenging leadership roles she ever had, Ly said. "My biggest take away, so far, is I truly enjoy working with my fellow Brothers to help create new ideas and events to help us gain recognition on campus. … The experience I gained from volunteering in Honduras is invaluable. This trip has opened my eyes to a whole new perspective that I didn't even know existed, and I cannot be more thankful for my experiences in Honduras."
Global Brigades is an international nonprofit organization that uniquely implements a holistic model to meet a community's health and economic goals. Through the collaboration of community partners in Honduras, they have evolved their programming to tackle the underlying issues causing and relating to the health challenges initially observed in medical clinics. Global Brigades works to empower communities through economic development, sustainable healthcare and water and sanitation projects. For more information visit globalbrigades.org.
A version of this article appeared in the Spring 2019 Issue of The Purple & Gold.