Chilando aka Cheech (Tau Chapter '14) attended Camden County College in his home state of New Jersey, graduating with an Associates Degree in Biology. He began researching schools to transfer and after looking at several schools, he realized that his next adventure would take him to the Exercise Physiology program at East Carolina University. This program would allow him to not only be involved in a heavily science-based program, but would encourage him to have the patient interaction he knew he craved. What Cheech learned and experienced at ECU was so much more than he expected. 
Phi Sigma Pi Members spend an abundance of time together during Chapter happenings and form strong bonds. However, the strongest bonds are formed when Members connect, and these relationships blossom into lifelong friendships. Cheech decided he was ready to find out what Phi Sigma Pi was all about. He was looking for a place to belong; a home away from home that he could experience with the support of other like-minded students at ECU. Cheech had always had big life plans, not knowing that his choice to join a Fraternity would make such an impact on his life, learning that Brotherhood would be a forever bond.

David Batts (Tau Chapter '92), EdD has been the Faculty Advisor to the Tau Chapter for the past 20 years and has had the chance to work with some talented students. "Cheech stood out from the first time I met him. He was confident, professional and charming, and of course always smiling." As Cheech stepped into the role of Vice President, the friendship between the two continued to grow. Dr. Batts knew that Cheech dreamed of attending medical school, and he became his biggest advocate.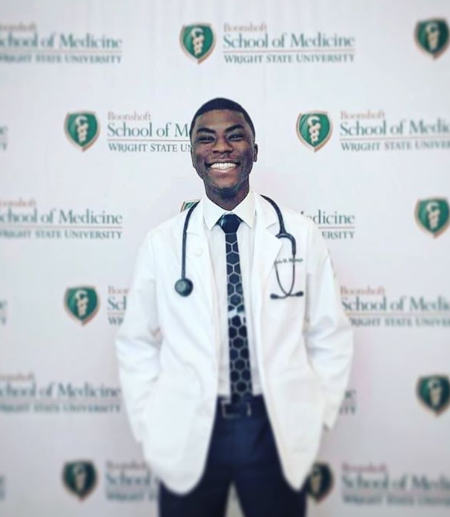 Soon after Cheech graduated, he reached out to Dr. Batts and was discouraged about his MCAT score, questioning if he would even be considered. David knew that medicine was Cheech's calling, so he continued to instill confidence in him through much needed encouragement and connection. Knowing that this story sounded familiar, Dr. Batts connected Cheech to another Tau Chapter Alumnus that had also encountered several setbacks before being accepted into medical school. Dr. Batts believed his continual confidence reminders throughout their relationship truly helped Cheech improve himself, and through mentorship and personal growth, Cheech was accepted into The Boonshoft School of Medicine at Wright State University. 
Service has always been, and will continue to be, a huge part of his life. After graduating from ECU, Cheech continued his service through Knights of Columbus, a Fraternal Service Organization. KOC hosts an array of service and fundraising events to better the community. The program Cheech was heavily involved with was called Compassionate Outreach. In this program, members would help collect essential items, food, clothes and furniture for as-risk families, along with helping Veterans and the elderly move into new homes. He maintains relationships with current Executive Board Members, as well as his little and grand little, making sure to check in on them as individuals because he personally understands that balancing life can be tough. 

Cheech believes that persistence is KEY. His advice is to challenge and push yourself; there is no growth without going out of your comfort zone. Phi Sigma Pi provides Members with the chance for a leadership role without prior experience. Yes, you can become a committee member, or join the executive board, but there are still so many opportunities beyond that. "If (someone) has an idea for an event, we want to encourage that thinking, let them manage the logistics of it, and see how it comes to life. I've always believed that leadership is more about coaching potential leaders. Don't be afraid to fall, because you'll have people by your side to help you up."