As a sophomore at Penn State University, Natalie has already made her mark on campus and within her Phi Sigma Pi Chapter. She is a biobehavioral health major and plans to work in global health after graduating. Natalie is passionate about communication - particularly within healthcare - and finding the best ways to communicate exciting and important ideas to the public. That passion led her to her current involvement in TEDxPSU. 
"My freshman year, I came to Penn State and I wasn't really sure what I wanted to do…I was kind of in the beginning stages of joining every club I could find and then seeing what stuck," Natalie said. "I've been watching TED Talks since I was a kid, and I think it's a really cool way to share ideas that people need to hear." 
TEDxPSU is Penn State's annual student-run TEDx conference. The organization uses the TEDx stage to showcase the ideas, experiences, and research of Penn State students, faculty, and alumni, and to bring in speakers from outside of the Penn State community to share perspectives and experiences from their corners of the world.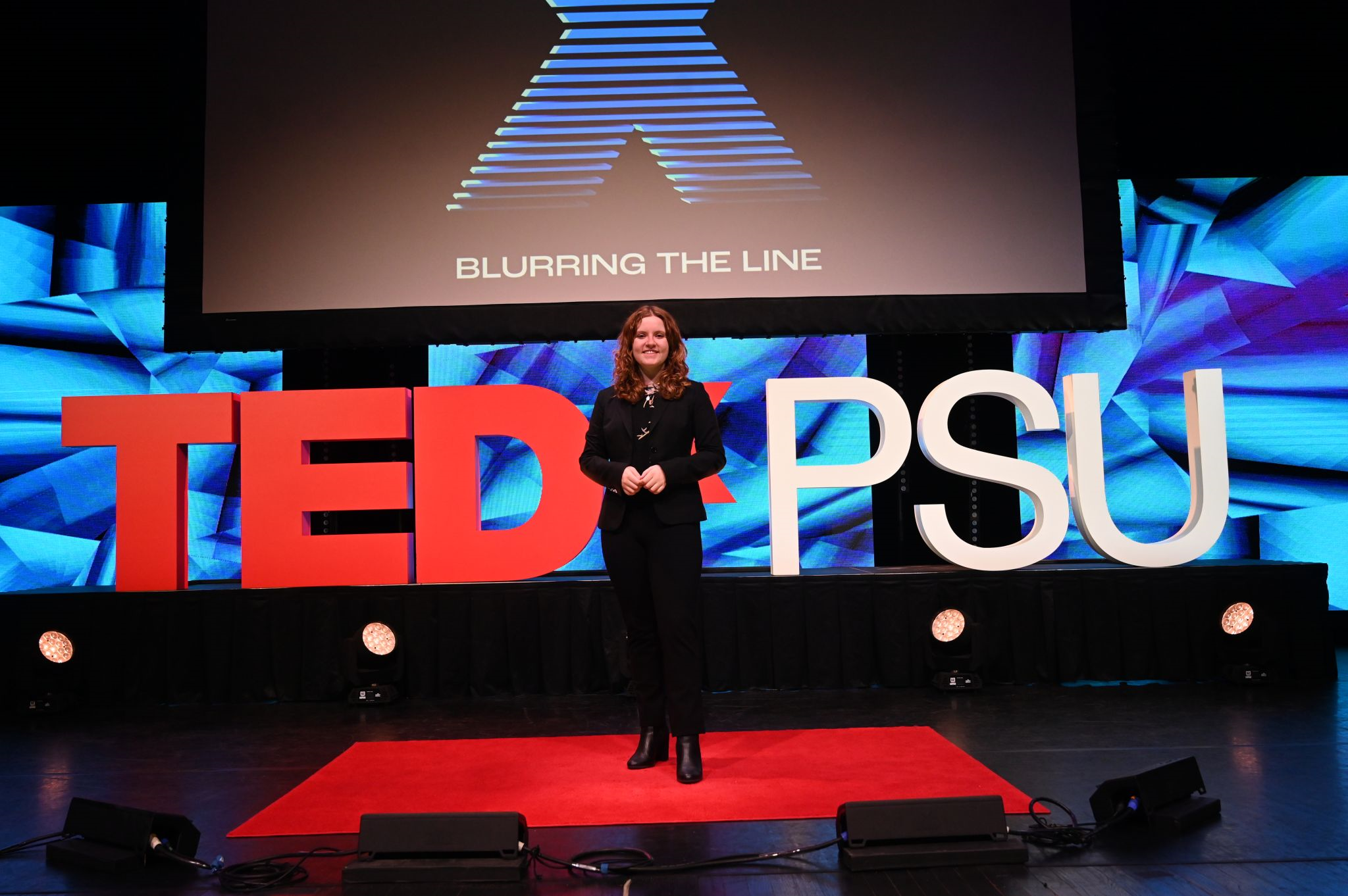 When Natalie discovered the organization, the TEDxPSU team had already been selected, but she took a chance on reaching out. She was able to shadow a consultant until someone left the team, and then secured her spot working with her first TEDx Penn State speaker. 
During her freshman year, Natalie worked closely with Dr. Michael Middlebrooks, an invertebrate zoologist working at the University of Tampa. Together, they crafted his TEDxPSU Talk, "Slug Life: How Sea Slugs Went Solar", which dove into his groundbreaking research into sea slugs that can photosynthesize.
"By the time of the conference, I was absolutely hooked on TEDxPSU," Natalie says. 
This year, Natalie was able to work with civilian astronaut Renee Frohnert. The pair met for months in preparation for the February 2023 TEDxPSU Conference, creating her talk, "The Spacesuit Effect". Renee shared her story as a woman in STEM, and how she gained the confidence to thrive in a male-dominated industry. 
As a woman in STEM herself, Natalie quickly connected with Renee.
"We talked almost every day for six months about this, and I had so much fun with her," Natalie says. "Basically, my job was to take her idea and her story and turn it into a TED Talk. It was an incredibly rewarding experience." 
Renee's TED Talk detailed her own experience as a Penn State student. As a first-semester freshman, her grades slipped as she struggled to find her place as one of the few women in her electrical engineering program. After being placed on academic probation and almost watching her dreams slip away, she persevered, secured three internships prior to graduating, and earned her spot on the Dean's List for the first time as a senior. In 2023, she's heading to space for the first time. 
As a conference consultant, Natalie met with her speaker weekly to develop the TED Talk, working through each aspect from the main points and theme to the flow and delivery. Conference consultants can also provide unique insight into what the audience, many of them being fellow students, will be most interested in.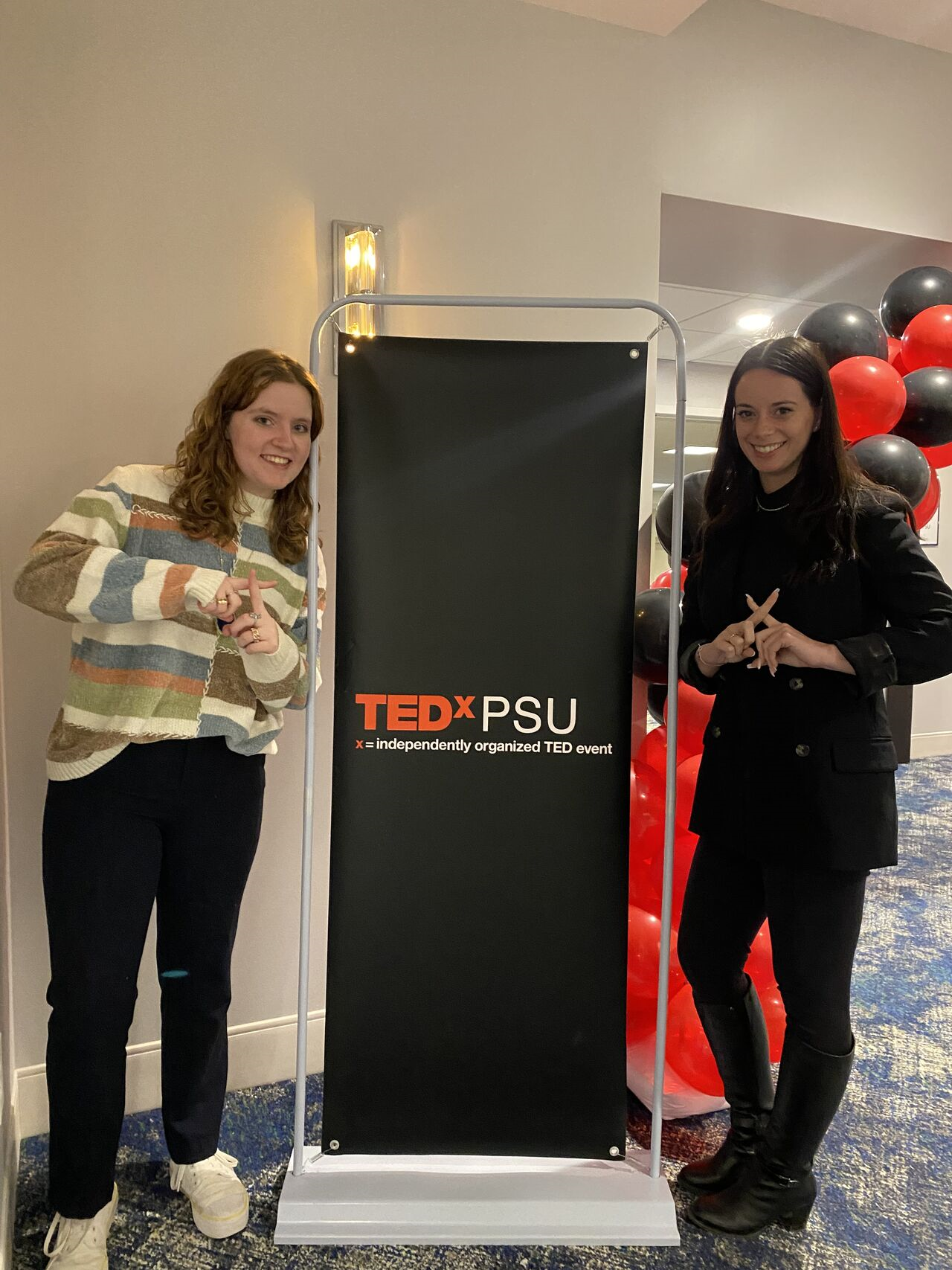 The February 2023 conference brought Natalie and Renee together for the first time in person. With Natalie at Penn State and Renee living in California, their work up until the event was over Zoom. At the conference, Natalie was able to experience her months of collaborative work come to fruition as she watched Renee's talk from backstage.
"It was incredible. It's an event where you truly feel all of your hard work paid off at that moment," Natalie says. "To see her on stage feeling confident and telling her story with such passion and such emotion, wearing the flight suit that she is going to fly to space in, it was amazing."
Natalie plans to continue as a conference consultant during her junior year. She says the consultant role provides a unique opportunity to connect with the speakers, which is one of the most rewarding parts of the process. 
When she's not in the classroom or working on a TED Talk, Natalie stays busy serving her Phi Sigma Pi Chapter as Vice President. She also recently concluded a successful Spring recruitment as the Chapter's Recruitment Chair and helped welcome 19 initiates.
"Joining Phi Sigma Pi was the best decision I've ever made, I have not looked back for a second," Natalie says. "It has given me such a huge community of scholars that have encouraged me to continue seeking my best, but also just are my best friends in the world."
Learn more about TEDxPSU, or watch "The Spacesuit Effect" here.