A thank-you note or email, can show your appreciation, boost your career, help you get a job offer and strengthen your relationship with a professor, co-worker or networking contact. Sometimes, however, we find ourselves staring at a blank card or screen with no idea where to begin. Leadership in Action has you covered with a video about how to write an appreciation thank-you note.
While appreciation thank-you notes are essential to know about for your professional and personal life, another important thank-you note to know how to properly write is one to an interviewer after a job/internship interview. 
After the interview, it is important to follow up with your well-written thank-you note as soon a possible, says thebalancedcareers.com.
Sending a thank-you note shows the interviewer that you appreciate their time and that you are eager to hear from them soon. This is your opportunity to get your name in front of people one last time and leave a positive impression. 
Use the first paragraph to thank the interviewer for taking the time to meet with you. Mention your interest in the job and your enthusiasm.
In the second paragraph, include the reasons why you are the right candidate for the job. List specific skills related to the job for which you interviewed.
If needed, you can briefly mention additional items you didn't bring up in the interview, which you think the interviewer should know, or you can elaborate on a point you felt needed some more time and attention.
Finally, conclude by reiterating your appreciation for being considered for the job, and let the interviewer know you are looking forward to hearing from them soon.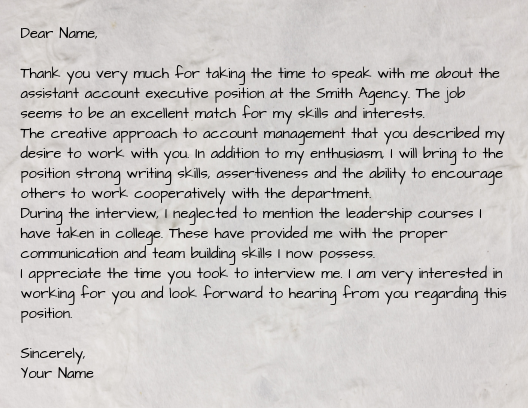 ---
Write thank-you cards as a Chapter! Has another organization, campus resource/office or your Faculty Advisor recently assisted your Chapter? During your next meeting, have Members write thank-you notes to those people who have helped your Chapter or helped Members, individually. Use the time, as a Chapter, to assist one another to write great thank-you notes.
---
Take the Leadership in Action Challenge! After watching the Thank-You Card video, above, write a thank-you to an interviewer, co-worker, friend, professor, etc. Take a picture of your thank-you before sending, and submit it, below, to earn 2 Leadership in Action Points.