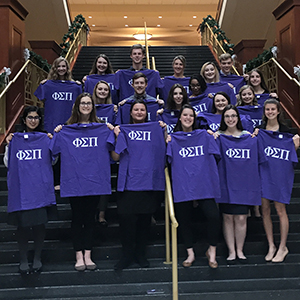 Is there a better way to kick off a new year than by celebrating Phi Sigma Pi's newest Chapter?
The Founding Class of the Eta Pi Chapter of Phi Sigma Pi at Christopher Newport University, in Newport News, Virginia, was Inducted Dec. 2, 2018. The Chapter was welcomed into the Fraternity by Members of National Staff and the Eta Zeta Chapter of Phi Sigma Pi at Old Dominion University. "It felt pretty cool to be seeing another class beginning their journey as Members of the Fraternity. It reminded me of how I felt three years ago when I first joined," said Alex Seiler, an Eta Zeta Founding Member, who witnessed the Induction.
These Founding Members accepted the challenge to leave their legacy on campus by creating a new opportunity for students to be engaged at Christopher Newport. They worked together to establish a strong Chapter foundation by gaining campus recognition, creating working governing documents and learning how they can fulfill their roles in Phi Sigma Pi history.
The Chapter looks forward to hosting its first recruitment drive this spring, collaborating with other organizations on the Christopher Newport University campus and sending the first representatives to the 2019 National Convention.
Check out a few highlights from their experience, below, and follow along on their journey by following the tag #leavealegacy.
1. Founding Members planned their first Tripod event. While getting to know each other better, learned how to make their own personal pizzas and collected school supplies for a local classroom. Members were able to experience the Phi Sigma Pi mission of Improving Humanity with Honor.
2. The Chapter already is utilizing one of Phi Sigma Pi's most significant Member benefits -- Leadership in Action. Members completed their first modules, "Diversity, Equity & Inclusion--Recruiting For Diversity."
3. The Chapter also has TWO LiA Facilitators ready to host several modules for the Chapter this term.
4. The Eta Pi Chapter worked to increase group bonds by having a twin reveal and selecting the owl as their Chapter mascot.
Congratulations Eta Pi, and welcome to the Phi Sigma Pi family! We cannot wait to see how you Improve Humanity with Honor.
Do you know a student or a campus that needs Phi Sigma Pi? Email expansion@phisigmapi.org your referrals and help spread the Phi Sigma Pi experience across the country.