One of the most significant relationships for an Initiate will be the one formed with their Big during the Initiation Program. The National Constitution requires that each Initiate receives a mentor who will help guide them to Induction, and best practice is to match Bigs and Littles as early as possible. The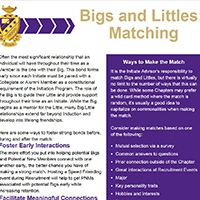 resources, below, will help you to incorporate Bigs and Littles into your Initiation Program in a meaningful way.
Q: How can we make sure that Bigs and Littles are well-matched?
A: While some Chapters have complex processes for Matching Bigs and Littles, others have found that a more random approach can yield bonds that are just as strong.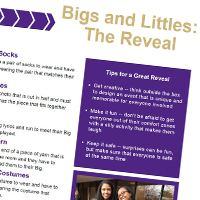 Q: What's the best way for Littles to find out who their Bigs will be?
A: There are tons of creative ways for Chapters to execute the Big/Little Reveal. Whether you opt for a simple or complicated approach, the reveal should be fun and memorable for everyone involved.
Q: What are some ways to foster the bond between Bigs and Littles during the Initiation Program?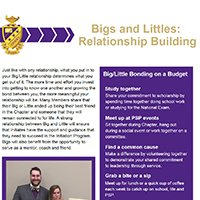 A: Some Chapters make Bigs sign a contract committing to spending a certain amount of time with their Little. If you opt to leave expectations more open-ended consider suggesting ideas for Big/Little Relationship Building.
Q: What can Bigs do to help their Littles meet Initiation Program requirements?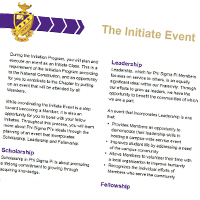 A: The main responsibility of a Big is to ensure the success of their Little in meeting the requirements of the Initiation Program and making it to Induction. Some Chapters encourage Bigs to provide support to Initiates in planning and executing The Initiate Event or studying for the National Exam.
Q: What is the Big's role after the Initiation Program is complete and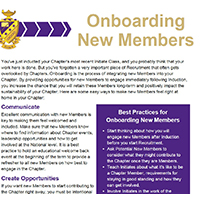 their Little has been inducted?
A: Hopefully, the bond built between Big and Little is strong enough to carry them through Induction and beyond. Even if they don't end up best friends, Bigs can help with Onboarding New Members and helping them be successful as part of the Chapter. This could include introducing them to other Members, encouraging them to get involved in committees or helping them to understand the day-to-day of the Chapter.
Visit the Initiate Advisor folder in the Resource Center to see all of the available resources for a strong Initiation Program. You can email ask@phisigmapi.org if you have any questions or would like to discuss ideas for making the most of Bigs and Littles as part of the Initiation Program.