In 2014, the Grand Chapter approved a resolution to embrace gender inclusion as part of our Fraternity's identity. This resolution, which resulted from the work of the National Development Committee, marked Phi Sigma Pi's shift from a "co-educational Fraternity" to a "gender-inclusive Fraternity." The resources below can be used to help guide your Chapter in embracing our value of gender inclusion in all that you do.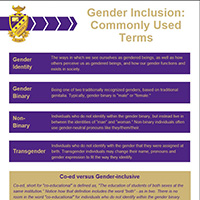 Q: How can we ensure that all Members have a foundational understanding of gender inclusion?
A: Educating your Chapter about gender inclusion is easier when you begin with an understanding of Commonly Used Terms. This resource also includes an explanation of the difference between "co-ed" and "gender-inclusive," which can be used to differentiate your Chapter from other organizations on campus.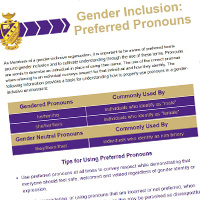 Q: How can we demonstrate acceptance to all individuals regardless of their gender identity or expression?
A: One of the simplest things that you can do as a Chapter is to ask Potential New Members, Initiates and Members how they identify themselves. Being intentional about using every individual's Preferred Pronouns will ensure that they feel safe, welcomed and valued no matter how they choose to express their gender identity.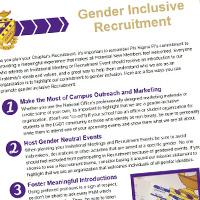 Q: What can we do to communicate our values as a gender-inclusive organization to Potential New Members?
A: Hosting a Gender Inclusive Recruitment is easy to do when you make a commitment to provide a meaningful experience that makes all Potential New Members feel welcomed. No one should feel excluded when you are keeping gender inclusion at the forefront as you plan and execute Recruitment.
The Resource Center is a great place to find all the information you need to help your Chapter be its best! Please email ask@phisigmapi.org to request additional resources on gender inclusion and other topics relevant to you and your Chapter.