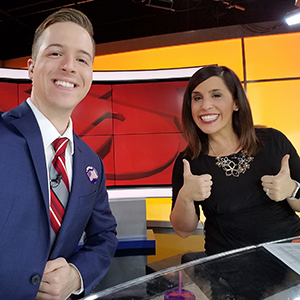 Sarah (Swistak) Treacher really wanted to be a newspaper reporter. She loved writing and meeting new people, and she envisioned a career telling stories. But when she began taking college courses, the 2005 Michigan State University grad and Beta Sigma Chapter Member quickly realized that print journalism was simply too rife with rules.
"Memorizing the Associated Press Style Book was just no fun," she said in a recent phone interview from her home in Lansing, Michigan. "It took the joy out of writing for me."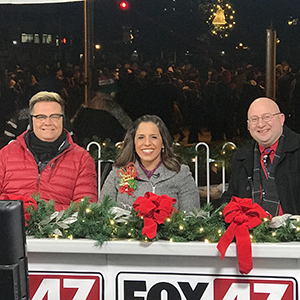 This revelation spurred a change in career goals.
"My initial draw to news was my love of writing," she said. "But I've never been shy; I've never been uncomfortable in front of a crowd," so Treacher combined her passion to write, her penchant for theatrics and her public speaking background to pursue broadcast journalism instead.
That path wasn't as smooth as she'd imagined, either. Although she'd graduated with a 4.0 GPA with degrees in journalism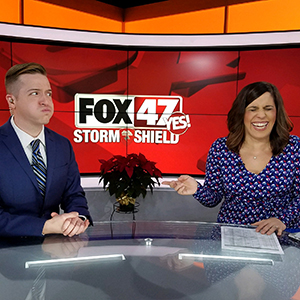 and American Sign Language in just three and a half years, TV studio doors were not swinging open as she'd hoped.
Her ticket to on-air fame would have to take a brief detour ... to Butte, Montana.
Out of the 210 television viewing markets in the United States— No. 1, in New York, to No. 210, in Glendive, Montana—Treacher landed in market 198. "I was pretty much a one-man show," she said. "But the highlight was appearing on National Television"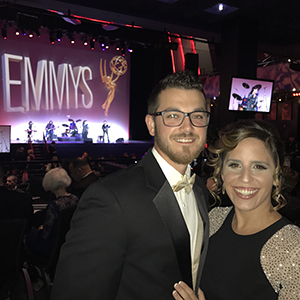 -- MSNBC for Evel Knievel's funeral and Nightly News with Brian Williams for her Super Tuesday coverage.
Studios noticed, and doors in larger markets began to unlock.
Next stop: Minnesota.
Here, she was named one of the state's Best Young Journalists two years in a row, and she earned three Emmy nominations.
As senior reporter, Treacher said, she covered breaking news, court cases, extreme weather and lighthearted feature stories. One that stands out, she happened upon quite by accident.
"I was in the right place at the right time," she said of seeing an inordinate amount of emergency vehicles moving along a major highway. She called her station and told them get a camera out there.
Her instincts were on the mark.
A driver with a blood-alcohol level at three times the legal limit had blown through a stop sign, T-boning a minivan carrying several adults and a newborn. "The force of the impact ripped apart the vehicle," Treacher said. "Most of them died on impact."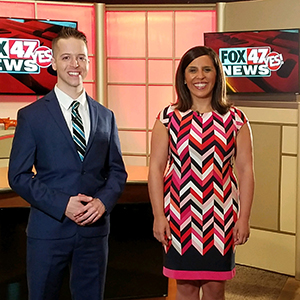 Thanks to her quick thinking, her station was the only one to get video and, while other reporters were rushing the hospital to talk with the van's lone survivor, she also was the only one to get an interview.
"If I was in her shoes, I wouldn't want someone calling my hospital room or trying to track down my family and friends," she said of her instinct to hang back. "She had literally just lost her husband, two children, a grandchild and a friend. That wasn't the time to aggressively seek an interview. We are humans first, journalists second."
So, later, when covering the drunk driver's preliminary hearing, she let the survivor know that if and when she was ready to talk, Treacher would listen.
The woman agreed to an interview, because, she said, Treacher was the only one who had treated her with respect.
After Minnesota, Treacher moved to State College, Pennsylvania—No. 106 in the viewing markets. It was her dream job, Treacher said—a midday news program called "Central PA Live." "I got to go backstage and train with Cirque du Soleil (twice). I also got an exclusive interview with The Band Perry." She was in her happy place, interviewing musicians, chefs, authors, artists, athletes …
Soon, though, familial duty called. Her brother was fighting an uphill battle with recurring esophageal cancer. Treacher felt she needed to go home, and, in February 2014, she was back in Michigan as an on-air reporter with Fox 47-WSYM. She anchors newscasts at 6:30 and 11 p.m.
"Though (Steve) passed away, I could be there when the moments mattered."
Now, as homage to her brother, Treacher produces a monthly cancer series, #SWISStrong, in which she features cancer treatments, survivors and stories. "I interviewed a one-legged bowler who had lost his leg to cancer." The program, she said, was nominated for a Michigan Emmy in 2016.
Treacher also was named Best in Category for news reporting by the Michigan Association of Broadcasters and her news writing, and feature stories have been recognized by several broadcast associations.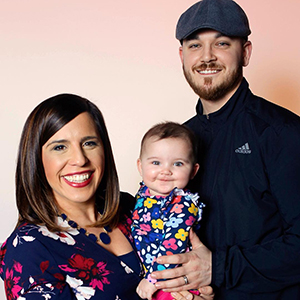 About a month before her brother died, Treacher said, she met her husband, Chris. "I knew I was going to marry him when he put his hand on my brother's casket, and told him, 'Don't worry about, Sarah. I'll take care of her from here.' We were married just over a year later." The two work literally opposite schedules, seeing each other just 45-minutes a day during the week. "It's a crazy balance I have. Full-time Mom, full-time journalist, wife, dog mom, etc. But I wouldn't trade it for the world."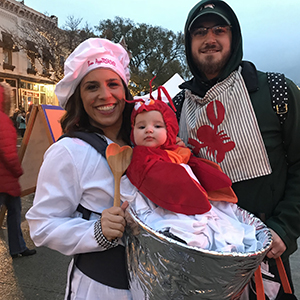 Last May, Treacher gave birth to daughter, Cecily. "Motherhood has changed me … I used to always be moving, moving, moving. I always had three pots on the stove, so to speak, but I like to be home with my tribe. I know these moments won't last. Everyone tells you that, and I don't want to learn that lesson the hard way and look back with regret. So my "on the go" lifestyle is now a family-focused lifestyle.  
She joked that, now, her favorite hobbies are "those of an 80-year-old."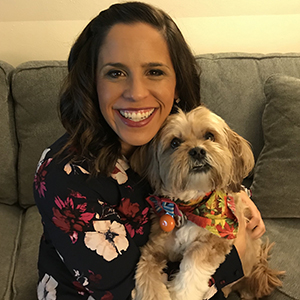 "I really kill it at Jeopardy. I yell out the answers with conviction whether they are right or not! And I crochet and spend time with my dog." Her Shih Tzu rescue pup, Riley, was her first love, she said.
Now a veteran broadcaster, Treacher credits her connection to Phi Sigma Pi for helping her develop her personal journalistic code. "I'm in a high-profile job. I use this platform for good and not evil."
She joined the Beta Sigma Chapter in the spring of her first year at Michigan State after feeling a poor fit in a Greek sorority, she said. "I tried the Greek system because my mom and my sister were in a sorority. I joined the house where my family belonged instead of where I felt comfortable. Let's just say I didn't blend well in a sorority."
She left and never looked back, she said. "That's when I got the letter from Phi Sigma Pi."
Walking into her first meeting, Treacher said, she breathed a sigh of relief. "I just felt 'at home', and it's a feeling that only grew stronger with each passing semester. … It was where I belonged. I was a member of other honor societies and organizations on campus, but Phi Sigma Pi was the perfect blend of intelligence, while remaining social."
Her Big at Beta Sigma was none other than Phi Sigma Pi's Vice President of Finance Sarah Cantwell, who graduated from Michigan State in 2003.
"Some of my closest friends," she said, "are from my time in the Chapter. The most amazing part to me, is how those bonds, even with brothers I hardly knew, have yet to break all these years later."
As a matter of fact, when other Chapter Members heard she was pregnant, they "mailed me books and car seats and everything I could need for the baby. ... They took it upon themselves to look me up and surprise me with all these wonderful things. It really, really touched me. It just goes to show, the bonds you make in this organization don't break once you graduate."