Launching in fall 2018, the Chapter Excellence Board (CEB) is Phi Sigma Pi's newest Alumni volunteer opportunity. Chapter Excellence Board Advisors work with their assigned Collegiate Chapters to serve as educators, mentors and coaches, to assist them in implementing strong and successful operational practices. In this post, we spotlight four CEB Advisors and their work.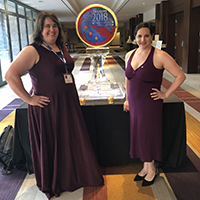 Rachel Maleski (Alpha Epsilon Chapter '05), an educator for 14 years, is the interim dean of students at a Tucson (Arizona) Unified School District elementary school. With education in mind and the desire to help students be the best they can, she was inspired to volunteer for the CEB. 
After graduation, Maleski wanted to stay connected to the organization that was so influential in her life, "I vowed that I would stay as involved as my life would permit," she said.
And she has, serving as an Alumni Advisor, National Committee Member, Leadership Academy Volunteer and much more.
"Being a CEB (Advisor) has afforded me the opportunity to stay connected with Collegiate Chapters and their day-to-day functions at the university level," she said, "and I also have a deeper understanding of how the Fraternity, on a National level, functions."
She pointed out that staying involved doesn't mean attending every event a Chapter puts on or running for a Council position. "It means being available as a resource, providing financial support to Chapters or the National Organization or providing feedback to the NAA delegates during election cycles at Grand Chapter."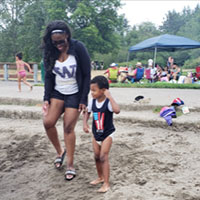 Jasmine Ames (Zeta Sigma Chapter '10), is a community development relationship manager associate for U.S. Bancorp Community Development Corp.
"Volunteerism is great in so many ways. You can volunteer to serve the community that you live and strive in; it is also a great way to engage in networking and career development." Volunteering, she said, helped her polish and develop skills outside her comfort level.
Because the mission of Phi Sigma Pi was such a strong influence, Ames wanted to be sure to help keep the Fraternity available to other students, she said. "I love Phi Sigma Pi! I thought it would be great to continue to stay involved with an organization that I believe in and adore."
As a CEB Advisor, she serves as a liaison between the Chapters and the National Office with financial reporting support. "I appreciate the opportunity to explain where the budget is and what the Chapters need to do to stay on track," she said.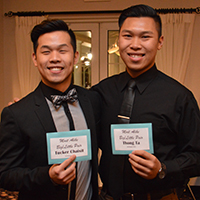 Thong Ta (Beta Upsilon Chapter '18) is a clinical assistant at Atkinson Family Practice in Amherst, Massachusetts. Ta admits that he never thought Phi Sigma Pi would become such a central part of his life, but he is now thankful for the opportunity and experience of attending National Convention and for lifelong friends. "I'm still trying to give my Chapter the support they deserve by helping with Alumni events and acting as an Advisor for newer Brothers."
"Volunteerism not only helps the person or organization you are volunteering for, it builds you up," said Ta, who said working with Chapters gives him insight into challenges his Chapter and other Chapters might face.
"Every chapter has the potential to be at the 'Excellent Chapter' status," he said. "Some chapters need more help to achieve it … That's why the CEB was created, and I want to put forth the idea that a Chapter isn't alone. Other chapters have faced the same difficulties, and that we will get through whatever is dragging them down to make them the best chapter they can be."
It's a lifelong Brotherhood, he said, comparing being a Member to buying a house or to a 'ripple effect'. "You would want to renovate it to the best it could be. That's how I feel about PSP. I'm just one of hundreds of brothers, but our voices reach so far and can help so many others."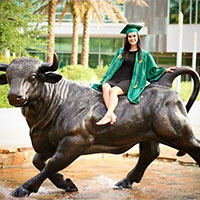 Cayla Duckworth (Epsilon Delta Chapter '17) also senses the ripple effect of volunteering with Phi Sigma Pi. Presently working at a marketing firm in downtown Seattle and volunteering with the nonprofit Among The Reeds, Duckworth also is a Phi Sigma Pi CEB Advisor and Leadership Academy volunteer.
"Phi Sigma Pi helped me to grow so much … and helped me to learn how to help others," she said, noting that giving back through volunteerism was "the least I could do."
She has a strong passion for helping others and an equally strong passion for Phi Sigma Pi, she said. So, when the opportunity presented itself to volunteer, she accepted with no hesitation. 
"Volunteering for CEB helps me to stay involved, nationwide, as well as give back to the up-and-coming Chapters, nearby, on the West Coast," she said. "I love that I am able to mentor and provide guidance to Chapters that are just starting their journey … I hope that my guidance will point them in the right direction and stay with them in future endeavors."
Phi Sigma Pi wants to thank all of our Alumni who are serving as Chapter Excellence Board Volunteers for the 2018-2019 academic year. We greatly appreciate your service to our Collegiate Chapters and for your dedication to the Fraternity.
Does serving as a CEB Advisor interest you? Applications are now open for the 2019-2020 academic year term. Visit phisigmapi.org/ceb for more information and to apply.