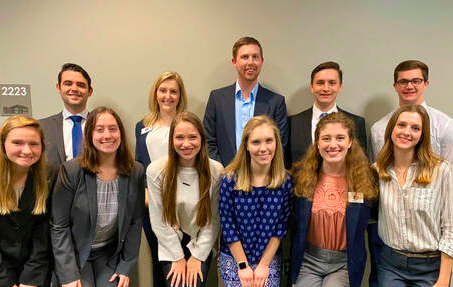 Phi Sigma Pi is recruiting achievers that are passionate about developing as leaders and improving humanity through scholarship, leadership and fellowship. Does that sound like you? You're invited to meet our Members and learn about the process of joining Phi Sigma Pi at one of our upcoming events!
Lily Wright, Senior Initiate Advisor, lkw0027@auburn.edu
War Eagle! My name is Lily Wright and I am the Senior Initiate Advisor here at Auburn. I am a Junior majoring in Hospitality Management with a concentration in Event Management and I am from Madison, AL. Phi Sigma Pi has given me a wonderful group of people to call Brothers and has been a great organization to help me grow as a leader. I have been able to find out more about myself as a person and leader through this Chapter and I couldn't be more thankful. My favorite Chapter event has been a HOBY Week event that we partnered with the Delta Beta chapter to do. It was great getting to work with their service chair and bring the 2 universities together! My hope for all Potential New Members going through Recruitment is that they feel included in our Fraternity and find a group of people who will support them throughout their collegiate endeavors and in life.