Approved Vendors
Greek Licensing protects our trademark and provides you with high-quality products for your personal or Chapter needs. Looking for new Recruitment shirts, Chapter shirts or a gift for your Big/Little? Check out this list of approved vendors!
Greek Licensing and You
We are here to answer all of your Greek licensing questions! We want you to shop for everything Phi Sigma Pi with one of our licensed vendors. Here's what you should know.
Why do you ask that we only shop with licensed vendors?
Phi Sigma Pi's reputation depends on the use of our name and image, which we exclusively own. In order to protect our reputation, we have implemented a program and partnership with Affinity Consultants to ensure the proper use of our insignia.
What's Affinity?
Affinity Consultants, founded in 1997, serves the needs of over 100 national and international fraternities, sororities and other Greek letter organizations. Affinity Consultants works with their licensed vendors to maintain quality and appropriate designs and products that contain our official colors and logos. In addition, "The organizations that Affinity represents firmly oppose any product, service, or design that attempts to glorify alcohol, hazing, sexism, racism or any other image that conflicts with values and missions of our clients."
What all falls under "name and image?"
Phi Sigma Pi's Greek letters (ΦΣΠ), our Shield, Official pins, the logos and the name Phi Sigma Pi National Honor Fraternity, including abbreviated versions like Phi Sigma Pi, Phi Sig or PSP.
Who are licensed vendors?
Phi Sigma Pi products and merchandise can be found at www.greeklicensing.com or by searching the box above. All vendors listed here are licensed vendors. You can also look for this logo. Remember: No Seal, No Deal: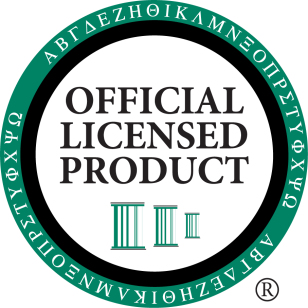 I found an unlicensed vendor using Phi Sigma Pi's name. What should I do?
If you come across an unlicensed vendor, please report them to our representative Melissa Jean-Baptiste. She can be reached at Melissa@affinity-consultants.com.
How does a vendor become licensed? 
Get licensed at greeklicensing.com/licensing in 3 steps.
I want to buy a piece of Phi Sigma Pi jewelry.
Please shop on the Herff Jones website where you can browse all of the available Phi Sigma Pi jewelry.

I am trying to order Initiate Pins.
Please visit our Fraternity jeweler, Herff Jones.


Our goal is to only license vendors producing quality Phi Sigma Pi merchandise and providing excellent customer service. When you purchase products from licensed vendors, you are supporting Phi Sigma Pi. We thank you for your cooperation in advance!