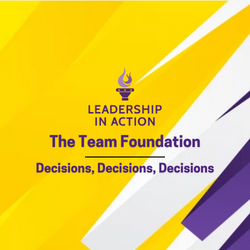 Join us for a live Leadership in Action Module, The Team Foundation- Decisions, Decisions, Decisions

Successful completion of this course will increase your knowledge by:
Employing three common decision-making patterns.
Recognizing symptoms of groupthink and implement strategies to avoid it.
Practicing reaching a consensus.

You will earn 6 LiA points for participating in this Module.