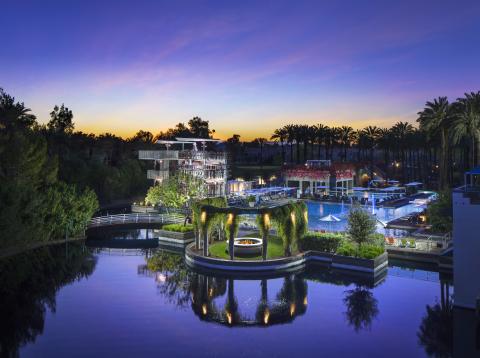 7500 E. Doubletree Ranch Road
Scottsdale, AZ 85258
United States
That's right. We're heading west for the first time EVER for the 2018 National Convention.
Host Resort: Hyatt Regency Scottsdale Resort & Spa at Gainey Ranch
Registration Deadline: June 15, 2018
Inquiries: convention@phisigmapi.org
We will be holding all 2018 National Convention programming and staying at the Hyatt Regency Scottsdale Resort & Spa. How does a 2.5-acre water park featuring ten swimming pools, white sand beach and three-story water slide sound? How about 27 holes of championship golf, four lighted tennis courts and bicycling trails with available on-site bicycles? We can't forget to mention Spa Avania with their sauna, French-Celtic mineral pool and full-service salon!
Staying at a resort allows us to offer a more diverse and unique experience for all convention attendees. When you're not shaping the future of our fraternity or developing your leadership skills, you'll have the opportunity to participate in scheduled activities such as an organized service project and sand castle competition. Of course, there will be plenty of scheduled time for you to explore the resort and Phoenix on your own. Also for the first time this year, we will be offering a special Alumni Track for our Alumni Members.
View the Registration Packet for more information on the schedule of events and the hotel and learn more at phisigmapi.org/convention