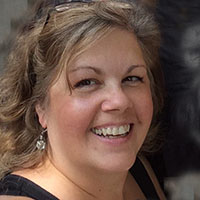 Join the Phi Sigma Pi National Office in welcoming Elizabeth Harvey to the Communications Team.
Elizabeth brings three decades of storytelling, media and marketing experience to Phi Sigma Pi—20 years as a journalist with Lancaster (Pennsylvania) Newspapers, 10 in higher education communications with Elizabethtown (Pennsylvania) College. She works closely with Adrienne Freeland, Senior Director/Director of Communications, and Scott Parker, Media Production Coordinator, to write blogs, create email correspondence and social media outreach and assist in editing the Purple & Gold magazine.
As a lifelong learner, with a sincere goal of absorbing at least one significant piece of knowledge daily, she immediately connects to the Scholarship ideal of the Phi Sigma Pi Tripod. But, with a draw toward mentoring and nurturing students, coworkers, friends and family members, Fellowship is a close second.
After office hours, Elizabeth runs a pet sitting business and is a freelance writer and editor. Her grown sons found adventure in California, where they moved last year, and she hasn't watched television in 28 years, so Elizabeth occupies her down time with anything involving the outdoors—hiking, cycling, kayaking, climbing. She also enjoys weightlifting and remodeling her 1937 circa Craftsman-ish home.
New passions are poking about in a native wildlife garden that happily replaced a plot of lawn this past spring and reading the Flavia de Luce series, which follows the adventures of an 11-year-old amateur sleuth in 1950s Britain.
Elizabeth looks forward to sharing the truly inspiring stories of Phi Sigma Pi. If you have ideas, please be sure to let her know. You can connect with Elizabeth on Facebook and Twitter, and you can always reach her at eharvey@phisigmapi.org.