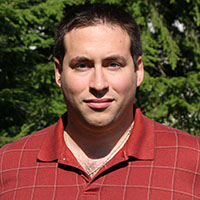 Join Phi Sigma Pi in welcoming Christopher Kostelnik to the National Office as Alumni Relations Coordinator.
Chris comes to Phi Sigma Pi after earning a bachelor's degree in history with a concentration in medieval Western history from Clarion University and a master's degree in student affairs in higher education from Slippery Rock University. Both universities are in Pennsylvania's Pennsylvania State System of Higher Education. Chris' master's degree included Council for Accreditation of Counseling and Related Educational Programs course work in individual, group and career counseling.
He is one of the founders of the Sigma Chi Fraternity, Theta Alpha Chapter for which he served as risk manager and vice president as well as in other chair positions. He continues to work as a volunteer and in advocacy for the Fraternity. He volunteered as council president, representing Clarion University for the North-American Interfraternity Conference. He was the first president to change bylaws in seven years. In grad school, Chris worked with various advisory boards.
At the Phi Sigma Pi National Office he will coordinate closely with Sarah Smith (Epsilon Alpha Chapter '13), Director of Alumni Relations and Programming, to encourage a strong bond between undergraduate Chapters and Alumni Members, build relationships and provide transparency for Alumni Members and Volunteers and deliver the daily functions of the National Alumni Association and its affiliated organizations.
A lifelong learner and self-described "TED-Ed nerd," who finds interest in knowing a little bit about a lot of things, Chris said he relates well to the Scholarship segment of the Phi Sigma Pi Tripod. He also connects with Leadership, calling himself a servant leader who looks to serve the greater of good of the people around him, and with Fellowship as he continues strong friendships and connections to his Fraternity Brothers.
Chris, who has relocated to York, Pennsylvania, spends his time outside the office re-watching Netflix programming and movies as he introduces his significant other, Kirsten, to previously enjoyed shows. He also plays video games and volunteers with his fraternity and other organizations including the American College Personnel Association.
Feel free to connect with Chris as he settles in at National Headquarters. You can find him on Facebook or drop him a line at ckostelnik@phisigmapi.org.