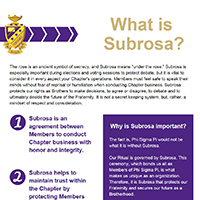 Subrosa protects our rights as Brothers to make decisions, to agree or disagree, to debate and to ultimately decide the future of the Fraternity. So, What is Subrosa? This resource and the ones below provide information on the significance of Subrosa to our organization and how Chapters can ensure that it is a part of their practice.
Q: How can we ensure that all members understand what Subrosa is?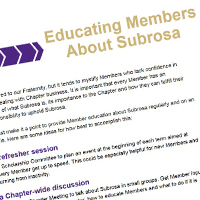 A: Educating Members About Subrosa is an important responsibility of your Chapter. New Members are first introduced to Subrosa during The Ritual Induction Ceremony, but regular and ongoing education will ensure that Members understand how to apply Subrosa during their time as Collegiate Members and beyond.
Q: How can we determine when Subrosa applies and if a violation has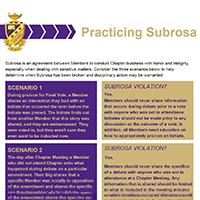 occurred?
A: Subrosa is an agreement between Members to conduct Chapter business with honor and integrity, especially when dealing with sensitive matters. At times, this agreement may be broken by a Member. This resource provides scenarios to help you learn the types of situations that may constitute a Subrosa violation and those that don't.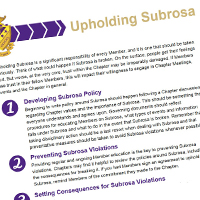 Q: What can we do as a Chapter to ensure that all Members understand their responsibilities around Subrosa?
A: Upholding Subrosa is a significant responsibility of every Member. Developing policies around Subrosa that help to prevent Subrosa violations and hold Members accountable when they violate Subrosa will help to preserve trust within the Chapter.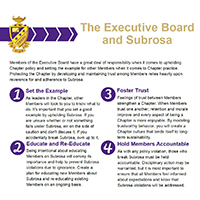 Q: What is the responsibility of the Executive Board when it comes to upholding Subrosa?
A: The Executive Board is responsible for upholding Chapter policy and setting the example for other Members when it comes to Chapter practice. There are specific considerations when it comes to the responsibilities of The Executive Board and Subrosa, and it's important to understand how the Executive Board contributes to creating a culture of trust within the Chapter.
Still need help with understanding Subrosa? Reach out to request a presentation by the Chapter Services Team by emailing ask@phisigmapi.org. And don't forget to check out all the additional resources available to your Chapter in the Resource Center.